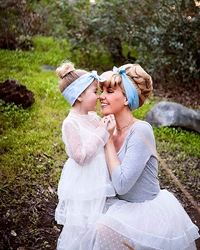 LOS ANGELES (PRWEB) October 31, 2017
Just in time for family holiday photos, ModerneChild Shoppe is out with a new collection of chic dresses, made to make little girls feel like fairytale princesses. ModerneChild Shoppe creates darling designs and accessories at an affordable price that will last for more than just one adventure. Offering high quality, unique pieces that are pretty enough for a little princess, these dresses will give her one-of-a-kind style for any occasion!
Transform little ones into bona fide princesses with the fairytale frocks from ModerneChild Shoppe:
Harlow White Sheer Dress: Help her find her Prince Charming with this Cinderella inspired number! Wonderfully white with sophisticated sheer lace, all she needs is the perfect glass slipper. ($30)
Rosea Coil Rosette Dress: Keep her as stylish as Snow White in this favorite! A dress for the sassarella, this will blow everyone away with its unique coiled rose. ($35)
Iris Perfectly Pink Dress: Let her light shine in this perfectly pink dress! Inspired by the always radiant Rapunzel, it has delightful details and a pretty princess waist. ($20)
Whether it's a holiday photoshoot or another special event, ModerneChild makes any little girl feel like she's living a fairytale!
For more information visit http://www.modernechild.com.
ABOUT MODERNE CHILD SHOPPE
ModerneChild Shoppe's founder Kim Landi is a CPA by day, super-mom and fashion designer by night. Landi has been a lover of fashion since she was a child. As a hard-working certified public accountant and mother of two beautiful little girls, she spent a great deal of time styling outfits for her little ones and learning about kid's clothes and fashion trends. She began posting pictures of her stylish children on Instagram and soon garnered a large and loyal following. The social media attention encouraged Kim to create her own online children's boutique, and with that ModerneChild Shoppe was born. Three years later, ModerneChild Shoppe continues to increase in popularity, with their outfits frequently seen on celeb's children and with 183k+ Instagram followers and 76k Facebook followers. Kim believes that every little girl should feel beautiful both inside and out and their styles are meant to help children achieve a healthy self-esteem and encourage girls to express their unique style.