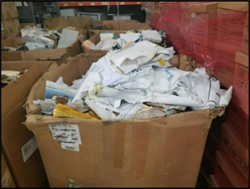 HOUSTON (PRWEB) October 31, 2017
The Data Shredding Services Family hopes the damage and destruction left in Hurricane Harvey's wake did not impact your families or your business – our thoughts and prayers are with everyone affected by flooding.
Disasters like the one our region recently experienced can alter the lives of entire communities. They can change the lives of those in a single residence, a whole neighborhood, a hospital, a bank, or any other business establishment.
As we work together to rebuild our community, DSS wishes to share the following information to help you deal with any documents that may have been compromised by Hurricane Harvey:

Do not throw away wet or waterlogged documents containing sensitive or personal information: these documents still contain data that can often be easily extracted.
Home-based or personal shredders are incapable of handling wet paper because of its consistency.
If your documents, photographs, or other personal papers were damaged by water, immediate action should be taken to prevent mold growth.
Moldy items are at risk of becoming toxic, and, as a consequence, unsuitable for shredding – even by industry professionals.
Mold thrives in damp, warm, and dark conditions, so make sure your items are moved to a cooler, more appropriate environment before beginning the drying process.
Wet documents should be dried out outdoors by the sun or placed alongside a dehumidifier until dry to the touch.
Place absorbent material such as paper towels underneath the drying documents to absorb excess moisture.
Circulating air will dry most materials and fans can be used as long as the airflow is directed away from the documents
Experts recommend that businesses located in flood zones should shred monthly and individuals annually to avoid the buildup of sensitive documentation and reduce their risk.
Among the myriad of services we provide to ensure your information is protected and that you adhere to all applicable privacy laws and regulations, Data Shredding Services, Inc. - Houston also has the necessary means to attend to wet and sensitive documentation. Please call 713.463.9300 or visit https:http://www.shreddinghouston.com to schedule your service or to request additional information.