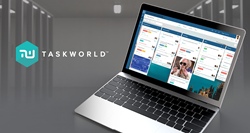 On-premise and dedicated servers allow companies in highly regulated industries to use Taskworld.
New Jersey (PRWEB) November 02, 2017
Leading online project management software - Taskworld announces today the launch of on premise and virtual private cloud (VPC) options for enterprises. This will allow companies in highly regulated industries to host Taskworld on the facility of their choice.
"Our cloud based solution is hosted on Amazon Web Services and is extremely secure. However some enterprises in traditional industries aren't allowed by law to host their data on cloud. We got a lot of requests for an alternative and that's why we are really excited to launch dedicated server and on-premise versions of Taskworld." - Patrick Wings, VP of marketing at Taskworld.
Enterprises can now run a copy of Taskworld's software in their own data centre, private cloud, or servers, and decide what resources (such as Disk, CPU, and ram) to provision to it. Each plan offers enterprises different data locations to choose from:
Public Cloud - Los Angeles, New York (USA), Frankfurt (Germany) and Seoul (Korea)
Dedicated Server - Los Angeles, New York (USA), Frankfurt (Germany), London (UK), Singapore, Seoul (Korea), Tokyo (Japan), Beijing (China) and São Paulo (Brazil)
On-premise - Any location of your choice.
Taskworld is also a certified member of EU-US Privacy Shield and follows its guidelines to ensure data security. For on-premise options in Europe, data handling is solely done within European union.
Benefits of on-premise solution:
Data sovereignty: If your company's regulations require you to store data in a specific region or on site, you can do that with on-premise installation.
Intranet compatibility: You can use Taskworld via your company's intranet.
Utilizing existing infrastructure: If you company has existing data centres/servers, you can utilize them to run Taskworld on it.
Data security: On-premise installation allows you to store data in data centres that meet your company's specific data requirements.
On-premise also includes all the benefits of dedicated server:
SAML 2.0 Single Sign-On (SSO)
Two-factor authentication
Unlimited workspaces
Unlimited storage
Audit report and compliance export of all messages
Continuous cross regional data backup every hour
Personalized training and priority support
Service Level Agreement (on request)
Taskworld is available in 11 different languages (English, French, German, Spanish, Portuguese, Italian, Thai, Chinese, Korean, Japanese and Bahasa Indonesia). Visit taskworld.com for more information or send an email on support(at)taskworld(dot)com.
Press Contact: Shiv Sharma (shiv.s(at)taskworld(dot)com)
Contact number: +1-866-428-9571
Sales Contact: John Parks (john.p(at)taskworld(dot)com)
Contact number: +1- 866-428-9571 / Cell: (781) 439-2528