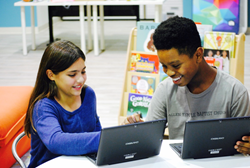 "We are excited to deepen our partnership with BookNook because of its innovative approach," Kyla Johnson-Trammell, Superintendent, Oakland Unified School District
Oakland, Calif (PRWEB) November 02, 2017
The Oakland Public Education Fund ("Ed Fund") and BookNook Inc. announced a new partnership that will significantly improve student reading achievement in Oakland.
Eight schools in the Oakland Unified School District, a mixture of district-run and charter, will participate in an initial deployment that will eventually expand to 20 schools across the city. Students and educators will use the BookNook platform to engage in adaptive small group learning activities that take place both during and after school. BookNook will also offer at-home supports for students to continue their work during breaks and over the summer.
While a relatively new technology, BookNook has already demonstrated significant benefits for children. 28 elementary schools and nonprofits piloted BookNook in the last school year, seeing significant improvements in students' reading abilities. Despite starting more than a year behind in reading, 44% of students caught up to grade level.
"When we looked at BookNook we saw scalability, we saw cost effectiveness, we saw that principals wanted it, and most of all we saw outcomes for students," said Brian Stanley, Executive Director of the Ed Fund. "We think this new partnership will be a game changer."
"Reading at or above grade level is critical for students' long-term success, and supporting young people as they master reading is one of our highest priorities," said Kyla Johnson-Trammell, Superintendent of the Oakland Unified School District (OUSD). "We are excited to deepen our partnership with BookNook because of its innovative approach, versatility, and most importantly, the results BookNook has been able to show for students."
"Oakland is a place of incredible educational innovation and creativity, which makes it the perfect place to show what a technology like BookNook can do. We're thrilled that it also happens to be our home town," said Michael Lombardo, founder and CEO of BookNook.
# # #
About the Oakland Public Education Fund
The Oakland Public Education Fund leads the development and investment of community resources in Oakland public schools so that all students can learn, grow, and thrive. Since 2003, it has raised more than $50 million for programs that put the right tools in students' hands to give all kids the excellent education they deserve. Learn more at oaklandedfund.org.
About BookNook
BookNook is a social enterprise based in Oakland, California that is working to change the when, where, and who of small group learning for children. It's platform is used by dozens of school districts and nonprofits across thirteen states. Founded in 2016, the company's early investors include Reach Capital, Better Ventures, and the Urban Innovation Fund. For more information visit booknooklearning.com.