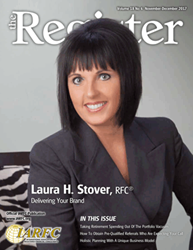 From the moment a person walks through the door, the feeling I watn them to have is WOW!...Laura Stover, RFC
Middletown, OH (PRWEB) October 31, 2017
Laura's ability to communicate evolved during her first career as a professional concert musician. She performed in front of hundreds and thousands of people throughout the years. TV appearances, radio interviews, performing at fairgrounds and having a flare for running an entrepreneurial business were skills that later helped her establish and manage a successful financial practice.
In the financial services profession, she started in a large Cincinnati based insurance company prior to making the change to an independent advisor. "I soon realized however that this made more sense in the big picture, relates Laura. "The relationships I had cultivated and developed, I could do so under a different platform. The thought of this was a bit frightening in the beginning from being an employee having benefits and overhead paid for by the corporation". Thus were the beginnings of LS Wealth Management, LLC.
Communication skills, according to Laura are the number one most important aspect to being successful and it is imperative to her that her staff is able to properly convey the image and quality of her message. She, herself, perfected this craft just as she used to do for concerts by acquiring the necessary training and understanding of the topics. "In music, interpretation and perception are developed at a very high level, along with detail," explains Laura as she addresses the building of trust between her and her audience. "As a woman in this industry [financial services], I realized quickly my knowledge needed to exceed the ordinary realm of status quo."
Being a Registered Financial Consultant (RFC®) and member of the IARFC, she adheres to their philosophy that all clients need a written income plan, regardless of wealth. She understands that clients have much higher expectations these days and have many choices when choosing a consultant. Personal touches win her clients and she utilizes social media as a tool for her prospects and clients to get to know her. However according to Laura, it does not replace the need for humans to interact with one another personally, more intimately.
Ultimately, Laura feels personalization is the main thing – seeing all sides of an individual. She believes that potential and existing clients want to be entertained. They want to know you are knowledgeable, and they want to understand and like the person communicating.
For almost two decades as a successful entrepreneur and financial consultant, she is ready to give back to the area where she grew up and make a difference in people's lives. "Financial literacy within the community," explains Laura, "is a vision I have".
For the full interview and understanding Laura's approach to communication, visit the IARFC website http://www.iarfc.org.