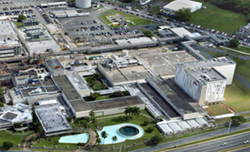 BETHESDA, Md. (PRWEB) October 31, 2017
The International Society for Pharmaceutical Engineering (ISPE) has announced Eli Lilly and Company as the Overall Winner of the 2017 Facility of the Year Awards (FOYA) program at ISPE's Annual Meeting & Expo in San Diego, California.
Eli Lilly was awarded for their Continuous Direct Compression Manufacturing Kits 2 & 3 project in Indianapolis, Indiana and Carolina, Puerto Rico. Their primary goal was to quickly build a network of innovative, state-of-the-art GMP oral solid dosage (OSD) facilities to deliver new advanced therapies to patients. Each of the three OSD installations were built sequentially in existing operating facilities at three separate geographic sites.
Process and facility replication was identified early in the project as a key enabler to improve technical transfers from development to manufacturing, as well as compress the schedule, and create budget efficiencies to achieve swift commercialization. As a result, the delivery schedule for each subsequent project continued to improve from the baseline case and millions of dollars were saved from replication and learning.
Their forward-thinking approach brought on the implementation of Continuous Direct Compression (CDC) Process and other process innovations in their OSD facilities across their manufacturing network—making them the only company with multiple, replicated, and operational CDC sites.
This combination of technology and process understanding along with identical standardized production platforms is what makes this project the winner of the 2017 Facility of the Year Awards Overall Winner.
For more information on Eli Lilly's award-winning facility and the FOYA program, please visit http://www.ISPE.org/Facility-Year-Awards.
About the ISPE Facility of the Year Awards Program
Established in 2004, the Facility of the Year Awards (FOYA) recognize state-of-the-art projects utilizing new, innovative technologies to improve the quality of products, reduce the cost of producing high-quality medicines, and demonstrate advances in project delivery. The FOYA program provides a platform for the pharmaceutical science and manufacturing industry to showcase its accomplishments in facility design, construction, and operation, while sharing the development of new applications of technology and cutting-edge approaches.
About ISPE
The International Society for Pharmaceutical Engineering (ISPE) is the world's largest not-for-profit association serving its members through leading scientific, technical, and regulatory advancement across the entire pharmaceutical lifecycle. The more than 18,000 members of ISPE are building solutions in the development and manufacture of safe, effective pharmaceutical and biologic medicines, and medical delivery devices in more than 90 countries around the world. Founded in 1980, ISPE has its worldwide headquarters in Bethesda, Maryland, USA, and an operations and training center in Tampa, Florida, USA. Visit http://www.ISPE.org for more information.
For more information contact:
Maria Robertson
Senior Director, Marketing Communications
International Society for Pharmaceutical Engineering (ISPE)
Tel: +1-301-364-9207
Email: mrobertson@ispe.org
http://www.ISPE.org