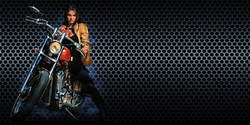 This biker dating site allows its users to browse other members' profiles in a pleasant online environment, as well as to apply various search filters in accordance with their personal criteria which altogether significantly increases the chance of finding that desired, like-minded match
Miami, Florida (PRWEB) October 31, 2017
"Biker" is an etiquette that individuals often embrace gladly since it's basically a synonym for one of a kind lifestyle that often understands love for motorcycles, biker rallies, leather and open road in general. If one wants to meet local bikers, however, they have to be aware it can be quite an endeavor since biker singles are rarely stationary for longer periods of time.
On the other hand, one can be regular at biker clubs, bars, rallies and so on but still without any major success when it comes to finding that special someone. Nevertheless, this biker dating site allows its users to browse other members' profiles in a pleasant online environment, as well as to apply various search filters in accordance with their personal criteria which altogether significantly increases the chance of finding that desired, like-minded match.
Further, active bikers spending lots of time on the road would be glad to hear that they can chat, mingle, flirt or set dates while on the go and without having to stay out of the roads for longer than necessary so this is the perfect way to combine nice and useful.
This biker dating site is available 24/7 and can be found on the web at https://www.meetlocalbikers.com.