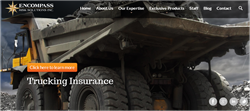 Webinars on topics like the ELD Mandate help trucking companies stay in compliance while improving operational efficiency.
(PRWEB) November 03, 2017
The Electronic Logging Device Mandate goes into effect December 18, yet many organizations are still unprepared. Critical questions organizations should ask include:
1. Has a specific device been selected?
2. Has a formal implementation plan been developed?
3. Once selected, will the device and driver behaviors be compliant with new FMCSA regulatory standards?
Join Encompass Risk Solutions and industry expert Ken Lacey as he discusses the rapidly approaching ELD mandate and what it means to transportation businesses. Topics include:

Deadlines and Exemptions
Data Capture Requirements
Log Transmission and Edits
ELD Selection and Implementation
Date & Time: Tue, Nov 7, 2017 1:00 PM - 1:30 PM EDT
Jeff Maconaghy, Encompass Risk Solutions President commented, "Our deep resources and industry expertise allows us to offer educational webinars to help trucking businesses stay up to date with changes and regulations, and to help them ensure compliance."
About Encompass Risk Solutions
Encompass Risk Solutions, a managing specialist of AssuredPartners Transportation, has over 100 years combined experience in creating risk management and insurance solutions for the transportation industry. Encompass serves a broad carrier and logistics customer base, providing service to small fleets to complex operations with thousands of trucks. ERS' services benefit all industry professionals, including company and owner operator fleets, truckload and LTL capacities, drayage, to car hauling and heavy haul. ERS also understands that the key to driving down fleet's cost of risk begins and ends with risk management including safety programs that make sense, proactive and reactive loss control and corporate "buy-in" from the top down. ERS helps coordinate all of these efforts to produce results for all types of transportation organizations. Contact Encompass Risk Solutions for additional information: http://encompassrisksolutions.com/contact/