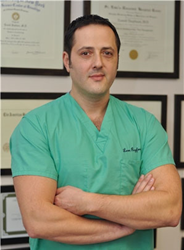 Dr. Leon Reyfman has been voted by his peers as a Castle Connolly Top Doctor as well as New York Super Doctors and selected to the prestigious group of New York Magazine Best Doctors
NEW YORK (PRWEB) November 02, 2017
A stem cell trial in Melbourne which was a world first for re-growing knee cartilage caught the eye Dr. Leon Reyfman of Stem Cell Therapy Center, one of Brooklyn's top stem cell therapists.
During the trial mesenchymal stem cells (MSC) were used to regrow missing cartilage in the knee of a young athlete. The athlete had suffered an injury after landing awkwardly in 2014 and initially underwent surgery which failed to produce any significant improvements. This stem cell therapy for knees trial which took place last year has resulted in the athlete being able to resume her career as a personal trainer and to lead a pain-free life. The therapy resulted in cartilage regrowth capable of filling a 1cm hole that couldn't be treated by traditional medical procedures or by surgery. MSCs can differentiate between cartilage and bone, a trait that initially interested researchers. Now however it appears this may not be their primary action as instead they seem to be able to influence and stimulate healing.
Six months after the procedure, the athlete noticed better movement in the knee and it's expected that the cartilage in her knee will continue to mature, eventually allowing the athlete to resume her training. The case was published in BMJ Case Reports journal with researchers concluding that the therapy, called mesenchymal stem-cell therapy may help provide treatment for similar conditions. Currently the clinic in Australia is conducting two separate trials on 70 patients with joint problems. However, while the athlete has experienced remarkable regrowth, researchers are keen to point out that results in others were more modest.
"Although this was a singular case study, the results are encouraging as this athlete experienced significant pain reduction and had good functional improvements, and most importantly there was complete regeneration of cartilage within the defect in her knee" said Dr. Reyfman. "Current stem cell therapy offers patients the chance of experiencing significant improvement using minimally invasive techniques and without the limitations associated with current surgical options."
At the moment, knee pain can be treated using stem cells taken from bone marrow and has proven to be an effective treatment for sports injuries and for conditions such as osteoarthritis. Unlike alternative treatments such as steroids or physical therapy, stem cell therapy encourages the body to heal naturally, gradually producing the tissue needed by the body.
Stem cell therapy can also be used to treat osteoarthritis pain including: hip, back, shoulder, foot and ankle.
About Dr. Leon Reyfman
A board-certified pain-management physician, Dr. Leon Reyfman provides patients with the latest, cutting-edge stem cell therapy using advanced regenerative medicine and stem cell injections. Dr. Reyfman completed his internship in Internal Medicine at Maimonides Medical Center. He completed his residency in Anesthesiology, focusing on Pain Medicine at SUNY Downstate Medical Centre in Brooklyn. Dr. Reyfman is currently the Director of Interventional Pain Medicine and is Assistant Clinical Professor of Anesthesiology at SUNY Downstate Medical School. Dr. Reyfman is also actively involved in pain management research.
Contact
Dr. Leon Reyfman, MD, RPh
Stem Cell Therapy Clinic
2279 Coney Island Ave, #100
Brooklyn, NY 11223
(718) 488-0188
https://www.stemcellstherapynyc.com
Source
http://casereports.bmj.com/content/2017/bcr-2017-220852.full