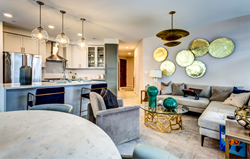 This apartment community lives up to its name as a truly iconic development. The quality of the interior finishes and resident amenities are second to none.
NORFOLK, Va. (PRWEB) November 02, 2017
Since 1967, the Norfolk skyline was defined by the Bank of America Building sitting along the waterfront and was once known as the tallest building in Virginia. An amazing transformation has taken place to that same skyline. The Bank of America name that once held its stature across the top of the building has relinquished its position in the Norfolk skyline to Icon, one of the most innovative and full-featured luxury apartment buildings on the east coast. The new, ground breaking living community sits along Main Street and overlooks a vast waterfront and is now the most prestigious address for Hampton Roads Residents.
In 2015, a vision for the building was brought to life by well-known developer Buddy Gadams of Marathon Development Group and today stands as a 269-unit luxury apartment building with incredible views and one-of-a-kind amenities. Offering studio, one, two and three bedroom apartments, Icon Norfolk Apartments has various features that are exclusive to its residents and not found in any other apartment community in the area and stands as one of the most expansive, fully featured communities in the nation. According to Wendy Drucker, partner with Drucker + Falk, the property management company responsible for the onsite professional management, "This apartment community lives up to its name as a truly iconic development. The quality of the interior finishes and resident amenities are second to none."
Starting at the top of this 24-story living community is a 15,000 square foot rooftop featuring an entertainment venue available for rent to the public, a private resident only clubhouse, bar, 2 full kitchens, grilling stations, fire pits, water features and sitting areas all enclosed by six foot glass walls for unobstructed views. "It is literally an oasis above your home and a breathtaking experience that is exclusive to Icon residents," added Drucker. At ground level is retail space and a grand lobby, leading you to the second floor featuring a tanning salon, fitness and wellness center, yoga studio, library nook, gaming parlor, wine vault and Media lounge. Not to be outdone, the developers left nothing out and included a full dining area, theater, 13ft video wall with stadium seating, steam shower and hydro massage rooms.
"It's an incredible location and we offer an amazing living experience with world-class views of the Norfolk waterfront and city skyline," commented Buddy Gadams, President of Marathon Development. "Those who live at Icon will enjoy an exclusive lifestyle that will be the envy of friends and family" continued Gadams. Each open modern floor plan features floor-to-ceiling windows with high-end finishes that include GE stainless steel appliance (penthouse apartments with Viking appliances), full size washer and dryer, custom kitchen cabinets, quartz countertops, glass tiled backsplashes ceramic tile throughout and access to the latest technology.
Residents will also have a plethora of on-site services that include grocery delivery, dry cleaning concierge, 24 hours maintenance service, meeting rooms, pet spa, climate controlled storage units. With a smile and beaming with pride, Drucker adds, "Icon Norfolk Apartments is one of the most exciting apartment communities we have ever had the opportunity to manage. I think I may sell the house and move in." Drucker + Falk is the exclusive property manager for Icon and responsible for resident leasing and ensuring the exceptional quality of all property amenities and resident services. If you are interested in living at Icon, you can call or text 757-755-2180 or visit iconnorfolk.com.
Founded in 1938, Drucker + Falk is a full service real estate and investment firm, managing a diverse portfolio of nearly 30,000 apartments in nine states. Drucker + Falk specializes in multifamily management of all asset types including new development and construction consultation as well as lease ups, restoration and upscale multifamily conversions. The company also provides services for asset repositioning and stabilization of challenging properties, mixed use management and due diligence. To obtain more information contact Jim Ledbetter, President & COO, jledbetter(at)druckerandfalk.com, or 757.926.5067. 
A full list of amenities is included with this press announcement.