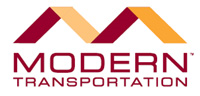 ..."we have gained and have applied tremendous industry knowledge from CCJ."
SEWICKLEY, Pa. (PRWEB) November 02, 2017
For the second year in a row, Modern Transportation has been selected by Commercial Carrier Journal as a leader in the for-hire trucking industry. Founded in 1987, Modern has been strategically positioned as one of the safest and most reliable bulk transportation carriers in the raw materials and chemical logistics sector.
"We are again pleased to be recognized by our friends at CCJ," stated Modern's President, Patrick Cozzens. "Over the course of our 30 year history, we have gained and have applied tremendous industry knowledge from Commercial Carrier Journal. In addition, it has been our honor to have been recognized by CCJ as their 'Innovator of the Month' on two separate occasions over the past five years," shared Cozzens.
For over fifty years, CCJ has conducted the industry's most comprehensive ranking of for-hire carriers. Using a blended ranking methodology, CCJ selects carriers and typically announces their selections each year during their annual meeting.
Headquartered in suburban Pittsburgh, Modern Transportation serves the bulk raw material and chemical logistics needs of numerous clients in a multitude of manufacturing industries. Currently, Modern provides safe and reliable service from twenty-three strategically-located terminal locations throughout the Northeast, Southeast, Midwest, and the South. For more information, please visit http://www.moderntrans.com.