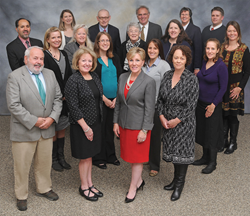 With a broad array of graduate programs in nursing and the health professions, Rivier University is uniquely positioned to serve as a primary conduit for behavioral health workforce development in the region - Rivier President Sister Paula Marie Buley, IHM
Nashua, NH (PRWEB) November 01, 2017
Rivier University announces the creation of The Center for Behavioral Health Professions and Workforce Development. The Center is an initiative in response to the increasing demand for professionals in fields of behavioral health and substance use disorder. The goal of The Center is to partner with the region's healthcare providers in ensuring an adequately trained workforce ready to meet the demands of regional healthcare, social service providers, schools and governmental agencies.
Encompassing the University's extensive graduate programs in counseling, school counseling, school psychology, clinical mental health counseling, psychiatric mental health nurse practitioner, and public health, in addition to an MBA in healthcare administration, The Center seeks to create partnerships and pathways to professional degrees and licensure requirements.
"In New Hampshire and throughout New England, there is a significant shortage of trained behavioral health professionals," said Sister Paula Marie Buley, IHM, Rivier's President. "In many medically underserved communities (MUCs), the need is dire and the demand for these professionals is growing. The situation calls for a comprehensive, cooperative approach that begins with education and training to meet the needs of medical and behavioral health treatment providers."
Rivier University was recently awarded a $1.095 million grant from the U.S. Department of Health and Human Services, Health Resources and Services Administration to develop and expand the behavioral health workforce serving rural and MUCs across New Hampshire. "Focusing on psychiatric nurse practitioners in their last semester of clinical training, the grant will support the integration of behavioral health and primary care; cultural diversity in the workforce; interdisciplinary and interprofessional training; and the expansion of clinical training opportunities, especially in medically underserved communities," said Buley. "The grant will also provide stipends to students in their last semester of practicum placement."
In a recent report issued by the New Hampshire Department of Health and Human Services, the state is experiencing "one of the most significant public health crises in its history." In 2017, estimates for drug-related deaths in New Hampshire are projected to be 466. Further supported by the federal declaration of the public health emergency dealing with the opioid epidemic, the crisis has strained an already thin medical and behavioral health professional workforce and highlighted the critical need for workforce development and substance abuse training and education in New Hampshire.
"With a broad array of graduate programs in nursing and the health professions, Rivier University is uniquely positioned to serve as a primary conduit for behavioral health workforce development in the region," said Buley. "Rivier's mission is to 'transform hearts and minds to serve the world'. We see the challenges in our region as an embodiment of that mission."
The Center will look to be a hub for behavioral health professions and highlight Rivier's unique ability to expand the workforce pipeline through the delivery of academic programs. In addition, The Center is positioned to be the region's resource for workshops, conferences and a speaker's bureau on varied topics such as the opioid crisis, substance use disorder, and psychiatric mental health.
This project is supported by the Health Resources and Services Administration (HRSA) of the U.S. Department of Health and Human Services (HHS) under grant Mental and Behavioral Health Education and Training Program M01HP31338 for $1.095 million. This information or content and conclusions are those of River University and should not be construed as the official position or policy of, not should any endorsements be inferred by HRSA, HHS or the U.S. Government.