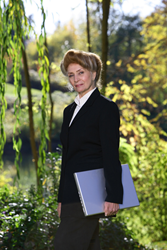 Grants Pass, OR (PRWEB) November 01, 2017
Date aired: September 25th, 2017
Guest: Kurt Wuthrich, Ph.D., (La Jolla, California & Zurich, Switzerland, Scripps Research Institute, Chemistry Nobel Prize co-recipient in 2002.
Water advocate Sharon Kleyne, host of the nationally syndicated radio program The Sharon Kleyne Hour Power of Water, Global Climate Change and Your Health on VoiceAmerica sponsored by Nature's Tears® EyeMist®, welcomed Kurt Wuthrich, Ph.D. and the co-recipient of the 2002 Chemistry Nobel Prize to her show to discuss his research and the importance of water on planet earth.
In response to Kleyne's question about drinking enough water every day, Wuthrich agreed that 8-to-12 glasses a day is desirable. Yet he also said other drinks such as green tea would also work. "95 percent to 99 percent of these drinks are made up of pure water," Wuthrich said, "so they will work, too. However, one should avoid flavored drinks that contain sugar."
Wuthrich, a Swiss chemist and biophysicist, is internationally known for developing nuclear magnetic resonance (NMR) methods for studying biological macromolecules. He received his share of the Chemistry Nobel Prize for developing nuclear magnetic resonance spectroscopy. This allowed him to determine the three-dimensional structure of biological macromolecules in solution. "My NMR research investigates the molecules of life," said Wuthrich.
Kleyne, herself an internationally respected researcher, educator and creator of new Water Life Science® technology, asked Wuthrich if NMR was feasible for diagnosing dehydration issues in newborns, infants and children. Wuthrich explained that at present NMR diagnosis would be cost-prohibitive for most people. However, he added that conventional Medical Research Imaging (MRI) was an affordable technology that is widely and effectively used for diagnosis.
Kleyne, also the founder of Bio-Logic Aqua® Research Water Life Science®, recalls that Dr. Wuthrich shares her lifelong commitment to educating and engaging young people in research and natural science, noting that in 2010, Wuthrich participated in the USA Science and Engineering Festival's Lunch with a Laureate program. In this program, middle and high school students got to engage in an informal conversation with a Nobel Prize–winning scientist over a brown-bag lunch. 
Wuthrich shared that his work continues to be research to better understand water in the earth's atmosphere and the human body—the molecules of life. "There is no life on earth anywhere without water," Wuthrich said.
We invite you to listen to this syndicated radio program with special guest Kurt Wuthrich, Ph.D. Please go here: https://www.voiceamerica.com/episode/70493/water-the-great-mystery
If you would like to contact radio host Sharon Kleyne, she can be reached at Sharon@biologicaquaresearch.com or 1-800 FOR MIST