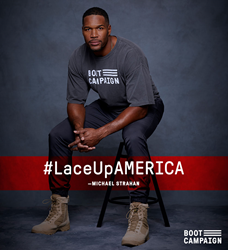 "So often we say thank you to our veterans, National Boot Week is our chance to show them how much we appreciate their service," says Boot Campaign CEO Shelly Kirkland. "Let's 'Lace Up, America!' and start a movement that spans the nation this Veterans Day."
DALLAS (PRWEB) November 01, 2017
In honor of Veterans Day this year, Boot Campaign, a national non-profit organization providing life-improving programs to veterans and military families nationwide, is encouraging people across the United States to walk a mile in a veteran's shoes – literally – by wearing combat boots to work, to school and around town during the organization's "National Boot Week," Nov. 6-11.
Celebrities from Michael Strahan to the Backstreet Boys to TV/radio host Leeann Tweeden to action sports athlete and Nitro Circus ringleader Travis Pastrana, philanthropist T. Boone Pickens and National Crime Stopper John Walsh will lace up their boots and share their photos on social media as part of the "Lace Up, America!" effort to visually honor veterans the week leading up to Veterans Day.
"So often we say thank you to our veterans, National Boot Week is our chance to show them how much we appreciate their service," says Boot Campaign CEO Shelly Kirkland. "Let's 'Lace Up, America!' and start a movement that spans the nation this Veterans Day."
Kirkland says the goal is to create a national groundswell of support by having people post themselves in combat boots using their "Lace Up, America!" Facebook frame and hashtag #laceupamerica during National Boot Week, then wear those boots around their community to show support for our troops.
"Veterans Day is a celebration of those who have served unselfishly to defend our country in the past, present and future. I want them to know we love them, we appreciate them, and we're behind them. To sign up and go somewhere and put your life on the line for people you will never meet…you need to be honored for that." says Michael Strahan.
"My dad was a Marine, my father-in-law was a Marine and my grandfather served in World War II," said Action Sports Athlete Travis Pastrana. "I am so passionate about giving back to those who serve in any way I can. By lacing up with Boot Campaign, I can do just that."
"I support our troops because of their courage, dedication and incredible sacrifices their families make so they can protect the greatest nation on the planet!" said John Walsh, host of CNN and HLN's "The Hunt."
"My dad served in Vietnam, and my husband is an Air Force pilot who has deployed to the Middle East more times than I'd like to count, so I know what sacrifice means," said Leeann Tweeden, military spouse and national television/radio host. "I cannot thank the men and women enough who serve our country for their service and sacrifice. And we can't forget their families too, because they serve right along with them. As Americans, we can all do something to make a difference and give back. Since I never wore the uniform myself, being part of the Boot Campaign is my way of giving back – allowing me to touch the lives of those who really need it most."
"I have a long history of support for the men and women who serve this country throughout the world," said T. Boone Pickens, legendary energy executive. "We owe each of them a great debt of gratitude."
###
About the Boot Campaign
Established in 2011, Boot Campaign is a national non-profit organization dedicated to igniting the inner patriot in all Americans and providing life-improving programs to veterans and military families. Retail sales of combat boots, apparel and mission-focused merchandise, donations and corporate sponsorships fund our efforts to support military personnel who have endured significant physical, emotional and circumstantial hardships resulting from their service and sacrifice. Accredited by the Better Business Bureau, 80% of Boot Campaign expenditures go directly to programmatic offerings to meet the mission. To learn more about the Boot Campaign, visit bootcampaign.org, like us on Facebook, and follow us on Twitter and Instagram.