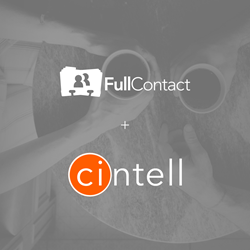 We want to empower customers with actionable insight, gleaned from these personas, to build better relationships.
Denver, CO (PRWEB) November 02, 2017
FullContact and Cintell today announced their partnership aimed at providing greater customer intelligence for building better relationships. From individual entrepreneurs to midsize and large enterprises, organizations will be able to deliver their buyers hyper-personalized value using accurate, up-to-date, and complete data. Through the Cintell and FullContact integration, they will target precise personas to increase sales and improve marketing driven campaigns. By taking advantage of data enrichment and high-quality identity resolution, organizations create better linkage and analysis of social data for prospects, companies, customers, and social followers.
"FullContact's 360-degree approach to customer and company insights fits perfectly with our mission and vision." says Terry Suppers, Chief Customer Officer, Cintell. "This provides our customers an unfair advantage in navigating & engaging various personas within a buying committee, and speeding up the sales process. We are excited to partner with FullContact to bring this unique offering to market."
"Cintell is a leader in helping organizations get the most out of their buyer personas, and we see our partnership as an exceptional opportunity," says Scott Axell, VP, FullContact. "We want to empower customers with actionable insight, gleaned from these personas, to build better relationships."
Companies taking advantage of the FullContact, Cintell integration will gain greater understanding of target audiences interested in their products through important identity and affinity data. They can create custom content, such as personalized ad campaigns, nurture emails, and product offers based on motivations and affinities gleaned from social activity. The customer-intelligence and consumer-centric experiences will help build quality leads, remove imprecise contacts, shorten sales cycles, and create more customers.
The value of the partnership resides in the integration of FullContact's human-to-human platform with Cintell's SaaS persona platform that helps businesses to understand their buyers. It addresses the problem of understanding what the right customer looks like, their interests and affinities, and how to best communicate to them in the right place at the right time and in the right channel.
###
About Cintell
Cintell's customer intelligence platform and services enable companies to compile a rich knowledge base in the cloud and operationalize these insights to make more customer-centric decisions. The proprietary CintelligenceTM process allows businesses to capture and analyze voice-of-customer research, add actionable third-party data, continuously validate and maintain these insights, and publish live, digital SmartPersonasTM. With integrations into existing business workflows & systems, Cintell aggregates and delivers rich, contextual customer insights companywide. For more information, please visit http://www.cintell.net
About FullContact
Headquartered in Denver, CO, FullContact, Inc was founded in 2010 as a contact management software that enables users to create authentic relationships with their customers. The FullContact suite of customer intelligence APIs allows for a human to human platform approach with deep data insights for meaningful interactions from your business. With easy-to-integrate APIs, your business can take advantage of the highest levels of data quality and security to enrich the entirety of insights into your customers. For more information, please visit http://www.fullcontact.com.