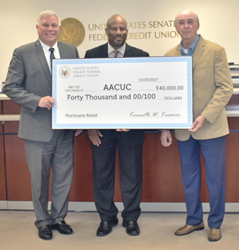 I appreciate the generous contribution from the USSFCU, said Anderson. Historically, African Americans, people of color and low income individuals have been dis-proportionally affected by these natural disasters. This will provide resources to target those areas and individuals needing help the mo
SNELLVILLE, Ga. (PRWEB) November 01, 2017
The Chairman of the Board for the African-American Credit Union Coalition (AACUC), Timothy L. Anderson, received a check for $40,000 to assist with hurricane relief efforts in Texas and Florida, from Kenneth Kramer, President/CEO, and Christopher Shunk, Chairman of the Board, of the United States Senate Federal Credit Union (USSFCU). The AACUC Board of Directors will assemble an assessment team to provide appropriate assistance to those affected the most.
"I appreciate the generous contribution from the USSFCU, said Anderson. Historically, African Americans, people of color and low income individuals have been disproportionally affected by these natural disasters. This will provide resources to target those areas and individuals needing help the most."
In 2005 the AACUC was instrumental in assisting credit unions hit with devastation caused by hurricanes Katrina and Rita. Many credit unions in the southeast region of Louisiana were affected. As a result of the devastation to credit unions, the AACUC Mentorship Committee established an assessment team. The purpose of the assessment team was to work with affected credit unions in identifying immediate and long-term needs, and providing resources for survival. . Members of the assessment team visited New Orleans and other immediate surrounding areas to work with the stabilization of approximately 12 credit unions. Grants totaling approximately $90,000 were secured from the National Community Development Credit Unions (NFCDCU) the Canadian League and the Federation of Southern Cooperatives to assist in the relief effort.
About AACUC
The African-American Credit Union Coalition (AACUC) was created to increase the strength of the global credit union community. In 1999 the AACUC became a 501c3 non-profit organization. Over the years, AACUC has grown and is ever changing to meet the needs of the dynamic credit union community which it serves. We are an all-encompassing organization for individuals (professionals and volunteers) in credit unions, insurance, regulatory, consultants and other entities in the credit union movement.