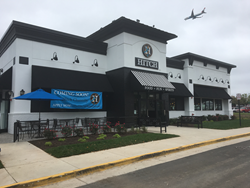 "The Hitch offers classic American comfort foods, like sandwiches, flatbreads, brunch and locally sourced seafood. Our motto is 'fresh and simple,' which is exactly what our patrons can expect."
CHANTILLY, Va. (PRWEB) November 01, 2017
Mid-States Management Group announced today their new restaurant concept, The Hitch, will open on Friday, November 3rd in Chantilly, Va. The Hitch features American classics with a coastal twist and is located in the Chantilly Shopping Center.
"Our menu and ambiance reflect a casual sophistication," said Mid-States CEO James King. "The Hitch offers classic American comfort foods, like sandwiches, flatbreads, brunch and locally sourced seafood. Our motto is 'fresh and simple,' which is exactly what our patrons can expect."
In addition to fan-favorites, The Hitch will offer a variety of signature items, including:
-The MOAB (The Mother-of-All-Baked Potatoes): a whopping 1lb baked potato with five hearty topping combinations to choose from (Creole Shrimp, Old Bay, Short Rib, Loaded Pork Belly, Classic)
-The Hitch Taco Trio: a trio of soft tacos layered with spicy slaw, feta cheese, pico de gallo, avocado sour cream and topped with a choice of protein (Cajun Mahi Mahi, Seared Ahi, Blackened Shrimp, Braised Short Rib, Blackened Chicken)
-Flite Bites: custom boards featuring a choice of three draught beers to sample while dining on one Chef creation
The Hitch incorporates regional ingredients into its menu whenever possible. "When planning our menu, fresh and local are what it's all about," said Mid-States Chef Mente Lawson. "Virginia has a great array of farms and vendors that we're excited to work with to bring out the best flavors at The Hitch."
Recurring weekly additions to the modern, chic vibes include a live music lineup. "Our goal is to be our guests' favorite around-the-corner spot for great food, soulful music and lively celebration," King added.
The Hitch joins Mid-States' roster of popular restaurants across Anne Arundel and Montgomery counties in Maryland, Fairfax County in Virginia and Sussex County in Delaware. These include Blackwall Hitch, The Greene Turtle Sports Bar & Grille and Roy Rogers.
The Hitch is located at 4301 Chantilly Shopping Center, Chantilly, Va. Learn more by calling 571.612.8573 and check out the menu here: http://thehitchchantilly.com.
About The Hitch
The Hitch Chantilly provides a relaxed yet sophisticated experience that brings seasonal delights to the suburban regular. Our chefs and mixologists develop a menu that is simple but celebrates American culture through fresh and simple cuisine. Our goal is to become our guests' favorite around-the-corner connection for food, spirits, music and celebration. With a weekly music line-up and a relaxing, soulful Sunday Bunch, we strive to be the end-of-day and end-of-week destination for all the locals in the area as well as their spot of choice when entertaining out-of-town guests. Learn more at http://thehitchchantilly.com or call 571.612.8573.
About Mid-States Management Group
Mid-States Management Group is the premier restaurant management group in the Mid-Atlantic region with over 25 years of restaurant management experience. Headquartered in Anne Arundel County, The Mid-States Management Group owns and operates restaurants in Anne Arundel County, MD, Montgomery County, MD, Fairfax County, VA and Sussex County, DE. Learn more at http://www.midstatesmgt.com.
###