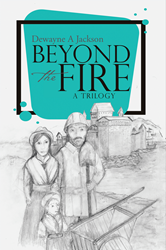 NORCATUR, Kan. (PRWEB) November 06, 2017
A Kansas-based farmer and rancher has released his debut fiction volume comprised of three books, which unfold the saga of a young, God-fearing nation that must grapple with tyranny from without and dissention from within. In "Beyond the Fire," author Dewayne A Jackson spins a memorable tale about remaining loyal to both family and faith.
Jackson's book opens on protagonist Destry Cotton's Christmas journey to the fictional, blizzard-stricken land of Amity, where her husband's family resides. Trapped with her in-laws by the wintery deluge, family patriarch Bill Cotton details Amity's rich history to Destry and reveals his own need for God's intervention in the face of doubt and fear, which had ravaged their home and nation.
"I grew up in the era of the Vietnam War, and I was appalled as the boys I grew up with served their country only to be spit upon and ridiculed when they returned home," Jackson said. "When my nephew was called to serve in Operation Desert Storm, I wanted him to know he was valuable and honorable. I knew J.R.R. Tolkien had written to his son during World War II with stories that would eventually become 'The Hobbit' and The Lord of the Rings series, so I embarked on a fictional tale of my own, sending him snippets at a time, that became 'Beyond the Fire.'"
With detailed mapping of the story's fictitious world and an eclectic cast of characters, Jackson's book puts forth the compelling and adventurous tale of one family's struggle to overcome upheaval, revolt and war and find ultimate solace in each other and God.
"Beyond the Fire"
By Dewayne A Jackson
ISBN: 978-1-5127-9559-2 (hardback); 978-1-5127-9557-8 (paperback); 978-1-5127-9558-5 (electronic)
Available at the WestBow Press Online Bookstore, ChristianBook.com, Barnes & Noble and Amazon
About the author
Dewayne A Jackson lives and farms in rural northwestern Kansas. Jackson holds a bachelor's degree in agriculture from McPherson College and enjoys part-time ministry as a lay speaker in several small community churches. He currently resides in Norcatur, Kan., with his wife. To learn more, please visit http://www.prairiepens.com.
###
Review Copies & Interview Requests:
LAVIDGE – Phoenix
Danielle Grobmeier
480-648-7557
dgrobmeier@lavidge.com
General Inquiries:
LAVIDGE – Phoenix
Maggie Driver
480-998-2600 x 584
mdriver@lavidge.com