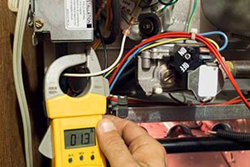 10+ Years Of Service, 50,000+ Satisfied Homeowners!
FORT COLLINS, Colo. (PRWEB) November 02, 2017
Swan Heating & Air Conditioning has announced recently that customers can receive $55 off their furnace repair service if they act fast and take advantage of the promotion. The deal is a way for the company to help people get their furnaces in working condition before the cold months of winter arrive in Loveland, Fort Collins, Greeley and Longmont. Since people often leave their heaters off over the spring and summer months, they won't always spot problems until it's too late, and nobody wants to be in that situation.
The experts at Swan advise everyone in the area to check their heating system to ensure that it will get the job done when the temperature drops and the snow begins to fall. Homeowners who run into complications can contact Swan Heating & Air Conditioning to achieve peace of mind, and they will be glad that they did when they see the outcome.
Experience
When people hire an expert to repair or replace their furnace, they will want to know that their heating and cooling system is in good hands. Consumers often ask Swan representatives about their experience and expertise, which is understandable. Swan Heating & Air Conditioning has been around for more than 15 years, and each member of their staff has earned industry certifications to prove their competence.
During the time that they have spent serving the people of Loveland and the surrounding area, the experts at Swan have seen it all, and nothing can surprise them anymore. No matter the problem at hand, they will get the job done sooner than many people once thought possible.
Meet the Swan Team
Offering a limited coupon for $55 off is not only a way to reward loyal customers, but it also acts to attract new clients to the Swan family. Rather than being employees or staff members, the experts at Swan are a team and work together to solve customer problems in no time. Each member has demonstrated the ability to live up to Swan's strict standards, allowing them to provide each client with impressive results.
The kind experts who work for the company are passionate about what they do and enjoy serving those who come to them for support and guidance. To ensure the safety and security of the team and customers, Swan Heating & Air Conditioning requires all team members to submit to a background check and drug test before acceptance.
Why People Come to Swan
It does not take new prospects long to see why many people keep coming back to Swan over the years. Not only does the company have team members who care about the community and love what they do, but they also have experts who are dedicated to meeting everyone's needs as efficiently as possible. When they show up at a customer's door to repair a furnace before winter strikes, they will pay attention to the small details from the start of the project to the end.
Getting Started
People who don't want to miss their opportunity to get $55 off are urged to move forward right away because the offer won't last forever. Customers can pick up the phone to ask questions and learn how the Swan team can serve them. A warm home and peace of mind are what customers can expect when they decide to service their furnaces before winter makes itself known across the area. Those who have never opted for Swan Heating & Air Conditioning will be pleased when they see the level of customer service that they will receive, letting them know that they have done the right thing.