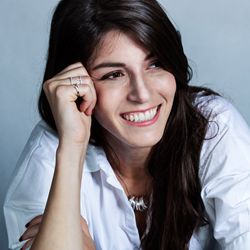 At SQUAREGAL, diamonds are a limitless stone—and one that can be shaped to fit any girl's personal identity.
MUNICH (PRWEB) October 31, 2017
SQUAREGAL, the revolutionary new jewelry company transforming diamonds into everyday accessories, is live on global crowdfunding platform Kickstarter and raising funds to bring the project to life.
Diamonds have been traditionally perceived as "stars in the sky" – farfetched and unreachable. It's been told they're expensive to make and only made for grand gestures of love. SQUAREGAL is attempting to flip that script with a groundbreaking mission that seeks to reinvent diamonds, making them accessible and stylish for all occasions.
"For too long, diamonds have been caged up as a prestigious stone, only to be worn on special occasions and kept locked away when not," says Audrey Cheng, Founder & CEO. "Does it have to be expensive and can only be given by admirers? Why can't we wear it over T-shirt and jeans?"
With the traditional jewelry model, markup on diamonds can be as high as 10 times the actual cost. SQUAREGAL has cut out the middle man and is utilizing a direct-to-consumer model to build a leaner supply chain, while passing on the savings directly to customers. So SQUAREGAL diamond retain all the quality and value of traditionally sourced and retail sold diamonds, without any of the excess markup.
SQUAREGAL only sells the highest quality of diamonds, which have been purchased from legitimate and conflict-free sources. This means all diamonds sold are near-colorless, clarity is slightly included, and cut scale rated as very good; all marks which earn these diamonds a space near the top of any diamond grading chart.
For their crowdfunding campaign, SQUAREGAL is introducing their Chic Diamond Collection- a range of diamond rings which have been styled for everyday use. Those that back the crowdfunding campaign, can purchase these the jewelry and save even more off the retail price.
"Our mission is to offer high quality diamond jewelry, priced at accessible level, and styled to fit daily outfits. We then turn our focus to diamonds – what they stand for (power, confidence, pride) and you," adds Cheng. "At SQUAREGAL, diamonds are a limitless stone—and one that can be shaped to fit any girl's personal identity."
SQUAREGAL is currently live and available to support on Kickstarter: http://kck.st/2i0sCIm
About SQUAREGAL
SQUAREGAL, funded in 2016 in Munich Germany, offers handcrafted chic jewelry, perfected with authentic diamonds and gemstones at highly affordable prices. The company is set to change the way people perceive and purchase diamond jewelry. For more information, please visit SQUAREGAL's website.
For more information on SQUAREGAL, please visit: https://www.SQUAREGAL.com/