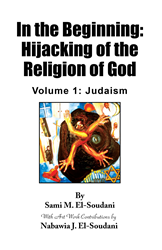 CERRITOS, Calif. (PRWEB) November 06, 2017
An aerospace materials scientist has released his debut book, which tackles the history and modern impact of the Christian, Jewish and Islamic religions. Through "In the Beginning: Hijacking of the Religion of God," author Sami M. El-Soudani presents a rigorous, research-based assessment of the notable deviations each religion has experienced over the course of their documented existence, ultimately reflecting on how these "hijackings" have contributed to worldwide conflicts experienced by society today.
Presented in three volumes, El-Soudani's book examines with a critical lens approximately three millennia of religious history and notes each faith's various divergences, including the documented worshipping of golden calves and other pagan symbols in Jewish history, the leadership of Saint Paul that defines much of Christian history and the civil wars and schisms that dot Islamic history.
"I began writing this three-volume book in the wake of the 20th century, which was marred by two world wars and increasing turmoil among Christians, Jews and Muslims." El-Soudani said. "My assessment is meant to provide a better understanding of the catalyst of ongoing conflicts among these religions and offer a critical review of religious history and how it affects our society today."
"At the heart of 'In the Beginning: Hijacking of the Religion of God,' is the question: Which is worse, mechanical failure, as when an engine breaks down under pressure, or human failure, when people buckle under social pressures and turn away from truth?" a BlueInk reviewer wrote about the book.
Through each religion-specific volume, El-Soudani's book delves into the intricacies and evolution of Christianity, Judaism and Islam and offers a scholarly analysis of how each has contributed to strife that continues to bleed into the modern world's understanding and perception of both religion and God.
"In the Beginning: Hijacking of the Religion of God"
By Sami M. El-Soudani
ISBN: 978-1-4363-4035-9 (hardback); 978-1-4363-4034-2 (paperback); 978-1-4500-4654-1 (electronic)
Available at the Xlibris Online Bookstore and Amazon
About the author
Sami M. El-Soudani has more than 30 years of experience in the field of aerospace materials science and has researched theology independently for more than two decades. El-Soudani holds advanced degrees from the Massachusetts Institute of Technology and the University of Cambridge, England. He currently resides in Cerritos, Calif. To learn more, please visit http://www.elsoudanibooks.com.
###
Review Copies & Interview Requests:
LAVIDGE – Phoenix
480-648-7557
dgrobmeier@lavidge.com
General Inquiries:
LAVIDGE – Phoenix
480-998-2600 x 584
mdriver@lavidge.com