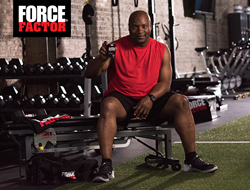 BOSTON (PRWEB) November 08, 2017
Force Factor®, a leading sports nutrition brand, today announced that former professional baseball and football player Bo Jackson has signed on to endorse its full line of fitness, diet, and male vitality supplements.
"We couldn't be more excited to partner with Bo Jackson," says Force Factor's CEO and Co-founder Daniel Wallace. "Bo is an iconic athlete whose accomplishments are legendary. What he did to capture the imaginations of football and baseball fans in the '80s and '90s was practically mythical. And more importantly, he perfectly represents the ideal image that men and women serious about their health and fitness strive to achieve."
Whether it was breaking tackles on the gridiron, throwing out runners from the warning track, or sprinting for touchdowns and fly balls at breakneck speed, Bo Jackson dazzled the sports world every time he laced up his cleats.
While he has largely stayed off the radar in recent years, he came out of retirement to support Force Factor because he feels strongly that their formulas can help millions of Americans improve their workouts. "I get approached all the time, as I'm sure you can imagine," Bo told us. "But I immediately felt Force Factor was different, in the way they use the latest science, the fact that their products are so popular at GNC®, and in the different types of supplements they create. Then I started taking the samples they gave me, and wow – I knew these guys were the real deal."
Force Factor plans to incorporate Bo Jackson across its consumer advertising, and is soon launching a media campaign featuring the dual-sport sensation. Additionally, Force Factor will leverage Bo's extensive knowledge of high performance athletics to support the design and development of new supplements and line extensions.
The combination of Bo Jackson and Force Factor will be fun to watch – reminiscent of watching Bo dominate the competition during his years playing both football and baseball professionally.
To learn more about Force Factor, visit ForceFactor.com.
About Force Factor
Force Factor is a global sports nutrition company dedicated to helping men and women optimize their health and fitness regimens through smart supplementation based on the latest science. The brand features products in the pre-, intra-, and post-workout categories, and additionally sells thermogenic, weight management, and male vitality ingestibles. Headquartered in Boston, Massachusetts, and founded by two former Harvard University rowers in 2009 with the slogan Unleash Your Potential®, Force Factor quickly became a top-selling brand at GNC and is now distributed at Vitamin World, The Vitamin Shoppe, on Amazon.com, and at other fine retailers nationwide. Force Factor is fueled by a virtually unparalleled ability to drive consumer demand via scaled internet, television, and radio advertising, and has always focused on delivering high quality, safe, and efficacious sports supplements, creating some of the most novel formulas and winning numerous awards in the process. For more information, visit ForceFactor.com and follow Force Factor on Facebook and Instagram.