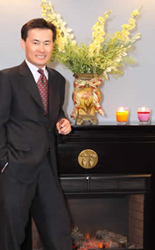 WALNUT, Calif. (PRWEB) November 01, 2017
Dr. Jin Y. Kim is pleased to announce the availability of appointments for new patients who suffer from missing teeth in Walnut, CA. With or without a referral, individuals are now welcome to schedule a consultation to receive dental implants with an industry-leading periodontist. Rather than resting on top of the gums like traditional dentures, an implant includes a post that is placed in the jawbone, offering lasting stability.
Losing a tooth can be a traumatic experience, regardless of its location in the mouth. If it leaves a visible gap, though, self-consciousness can continue to be a problem long after the gums heal over the empty socket. Beneath the gum line, another problem develops. Natural tooth roots stimulate bone growth through the pressure placed on the jaw when a person chews. Once this function is gone, the bone begins to degrade. Nearby teeth are affected, and will eventually loosen and fall out. Dental implants arrest this process because the post provides the same stimulation the natural root did while also holding the crown firmly in place.
Dr. Kim specializes in the placement of dental implants for those with missing teeth in Walnut, CA. Not only does he have extensive skills, knowledge and experience, he actively works to improve periodontics through research and publications in dental textbooks and in scientific journals such as the International Journal of Periodontics. He also shares his expertise as a consultant to dental implant companies and a surgical device manufacturer, and he fulfills many speaking engagements and lectures at the UCLA School of Dentistry and continuing education courses around the world.
Those with missing teeth in Walnut, CA, who want a long-lasting tooth replacement solution can call 909-860-9222 to make an appointment at the Diamond Bar location, or 714-898-8757 for the West Garden Grove office. More information about the services Dr. Kim provides is available on his website at http://www.drjinkim.com.
About the Doctor
Dr. Jin Y. Kim is a periodontist dedicated to providing personalized dental care in Diamond Bar and Garden Grove, CA. Dr. Kim attended the University of Sydney Faculty of Dentistry before furthering his education with an advanced degree in pathology from the Medical School of the same University. Dr. Kim completed a periodontics and implant surgery residency at UCLA School of Dentistry. A uniquely dual board-certified specialist, Dr. Kim was board-certified by the American Board of Periodontology and the American Board of Oral Implantology/Implant Dentistry. The International Congress of Oral Implantologists and the American Academy of Implant Dentistry both gave him the title of Fellow. He was also inducted to be a Fellow of the prestigious American College of Dentists. Dr. Kim enjoys lecturing at UCLA School of Dentistry as well as national and international academic and clinical associations and universities including the International Association of Dental Research, American Academy of Periodontology and Academy of Osseointegration. To learn more about Dr. Jin Kim and the services he offers, visit his website at http://www.drjinkim.com or call 909-860-9222 for the Diamond Bar location or 714-898-8757 for the West Garden Grove location to schedule an appointment.