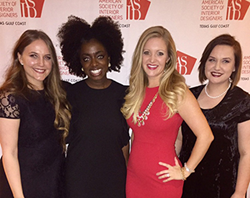 "We are excited and humbled to receive this award. It has been a pleasure working with Ownership, the Hotel Project team and Marriott International," says Lisa Haude, CEO of PDG. "This project was a fun as we creatively interpreted the industrial feel of the surrounding area into the hotel."
HOUSTON (PRWEB) November 01, 2017
The ASID Ruby Awards is the most prestigious design competition in Houston. Founded in 1975, ASID is the oldest, largest and leading professional organization for interior designers.
"We are excited and humbled to receive this award. It has been a pleasure working with Ownership, the Hotel Project team and Marriott International," says Lisa Haude, CEO of PDG. "We enjoyed the creative challenge the property provided as we playfully added industrial design elements into the room."
The project is inspired by the strong shipping/industrial presence in the city and the native golden poppies that grow in the area's surrounding fields, this hotel design provides a playful approach to region. The furniture is a modern interpretation of authentic shipping containers and are even stamped with 1852, which is the when the city was founded. The carpet pattern resembles the rolling currents from the bay, a key element of the area's shipping industry. Warm grays, poppy gold, industrial black metal and pops of white set the tone for this beautiful property that overlooks the bay.