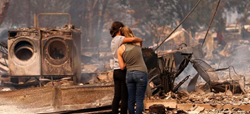 Using a safe deposit box to store valuables could have prevented some of the horrific losses incurred by Homeowners in these recent disasters
SALT LAKE CITY (PRWEB) November 16, 2017
SDBIC's SecurePlus Network of Private Vault Facilities Accelerates Growth with Addition of Safe Haven Vaults
Safe Deposit Box Insurance Coverage, the leader in secure-storage solutions, announced today that Safe Haven Vaults is the latest private vault to be accredited under their SecurePlus program. Based on a comprehensive evaluation of the vaults protective systems and operational procedures, the accreditation is reflective of the facilities commitment to the security and safety of their customers' valuable assets.
Safe Haven Vault is the only private vault in Utah to achieve this accreditation.
The shrinking of branch banking has created a void in the market for secure storage. In a two-year period ending March of this year, 7,179 branches closed countrywide, a trend that is expected to continue, if not accelerate. As consumers evaluate unregulated private vault companies, assessing the risk associated with that facility is difficult. SecurePlus is designed to help consumers identify the best, most secure private vaults. For vault owners, it is an opportunity to receive input from independent security experts to assure their facility and operating procedures meet current standards.
"Recent wild fires and flooding destroyed billions of dollars of valuable personal property in homes; in the blink of an eye, people lost tens of thousands of dollars –for many a devastating, life altering event," said Gerald Pluard, founder of SDBIC. "If those items had been stored in a safe deposit box in a vault, many of the losses could have been avoided or at least been covered by insurance," added Pluard.
"With new management and recently upgraded facilities, we are committed to providing a world-class facility and unparalleled privacy and services" said Sebastian Hadad co-owner of Safe Haven Vaults. Without compromising privacy, our insurance provides another layer of protection if assets are damaged or destroyed by a catastrophic event; something only a few vaults in the country provide," added Hadad
For a detailed look at secure storage options and a list of SecurePlus vaults, click here.
Offering on-demand insurance and high-touch personalized service, SDBIC is changing the way valuable assets are insured. SDBIC is the fastest growing insurer for high-value, investable and collectable assets in the market today. For more information go to http://www.sdbic.com or call 224-227-6181. Secure it and Insure It.