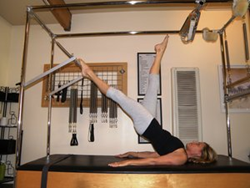 "We're here to make every 'body' feel empowered via the traditional classical Pilates method."
Los Angeles, California (PRWEB) November 01, 2017
On the heels of its 10th Anniversary, Turning Point Pilates—the premiere and only truly Classical Pilates studio in Venice, California founded by Pilates expert Robin Solo—introduces its new prime location in the heart of Venice at the intersection of Garfield Avenue and world-renowned Abbot Kinney Boulevard. The studio specializes in helping clients master their bodies and health by turning back the clock, essentially defying the aging process so that they look, feel and act younger.
Turning Point Pilates is a fully equipped boutique studio teaching the Classical Pilates Method, which means that it is as close to the teachings of creator Joseph Pilates as possible. Clients receive exceptional private and group instruction with a high level of personal attention in the warm, serene modern space.
The prior location of the studio was on Washington Boulevard in neighboring Marina del Rey. In the midst of the influx of various Pilates-based and fusion workout studios that have popped up, Robin Solo is proud to feature the only classical / traditional Pilates studio in all of Venice, Marina del Rey and neighboring beach cities.
Solo says, "My team and I truly enjoy being of service to our clients. We wanted to move into the heart of where most of our clients live, which is why we picked the new location in Venice. We're here to make every 'body' feel empowered via the traditional classical Pilates method. My greatest pleasure is seeing people come in as beginners and then far surpass their prior limitations—whether it be overcoming an injury, the feeling of having lost their vitality or just needing to increase strength, tone and flexibility."
The new location at 910 Garfield Avenue, just north of Washington Blvd., elevates the client experience. The studio features first floor entry, polished concrete floors, bright natural light, ocean breezes and an intimate boutique neighborhood energy. Many local clients are walking and cycling to the studio, so the convenient location also reduces the business's carbon footprint, which is a welcome and sustainable benefit for the environment.
Virtual Sessions Now Available
Additionally, with the move, Turning Point Pilates is happy to announce that it has now added online private instruction with Robin Solo via Zoom or Skype video conferencing. This makes it possible for the busy professional, parent, traveler or person outside of the area to be trained in the comfort of his or her home, office or hotel. Please visit http://www.turningpointpilates.com/online for more information or book a session. Note: A reformer is not required; just a mat and perhaps a few props.
Nano Current Facial Treatments Coming Early November
Robin is currently becoming certified in nano current facial treatments, an electrical skincare treatment. It's a non-invasive pain-free age-reversal technology, firming muscle tone and improving the appearance of wrinkles and providing a subtle lift. Solo says, "it seems like a no brainer as an adjunct to the age defying effects of Pilates!"
Robin Solo's philosophy is that not every exercise is for every body, which is why her focus for each client is so customized. Every person has different goals, strengths and limitations. The cool thing about Pilates is that the method is both a challenging exercise routine as well as corrective exercise for those clients who have very specific imbalances and are better served in a private lesson. Turning Point teachers are looking and listening to ensure that all clients are receiving maximum benefits from their practice.
The mission at the studio is to give each client a highly personalized session that speaks to the client's unique body. It is not one size fits all or cookie cutter training. Even in their small 4-people group classes, clients are guided under the watchful eye of highly trained and experienced Classical Pilates instructors who are making corrections and modifications that give each client the best experience possible for every single exercise.
Solo adds, "Whatever your body needs is our starting point. For example, if you have a pronounced curvature of your spine, we're not going to have you do lots of forward bending, but rather, more extension. If we see you are knock-kneed we are first going to strengthen your outer hips. I believe that this attention to detail for each person—whether in a private or group session—is what sets us apart from many of the studios out there."
For more information or to book a group class or session, go to http://www.turningpointpilates.com or download the "Mind Body" App to your phone.
About Turning Point Pilates
Turning Point Pilates studio was founded in 2006 by Robin Solo to introduce the Classical Pilates method to the neighborhood of Venice and Marina del Rey, California. The clients are diverse—from the elite athlete to the elderly. The strength of the method is that it really is an exercise for everyone that can help turn back the clock. Turning Point instructors give highly customized training by challenging and teaching clients to move the entire body with core confidence, power, grace, less pain, and ultimately, to defy the effects of aging.
About Robin Solo
Robin spent 14 years in the entertainment industry which was fun until it wasn't anymore. She found the last couple years in production soul sucking and finally got up her gumption to leave. She's never looked back. She felt a call to be in service, and after discovering Pilates Robin knew she wanted to become a teacher and open a studio. After extensive training and two years working for others, she opened up a studio where currently Snapchat has its campus. Teaching Pilates she finally experienced a sense of peace and gratitude instead of clashing egos and 4 a.m. call times. Even having to relocate her studio two times due to the excessive rents wanted by Venice landlords, she's been able to hold her footing and remain in Venice in her favorite studio to date. Both her current landlord and clients are awesome! She invites anyone in the neighborhood to stop by and say 'hello.'
Website: http://www.turningpointpilates.com
Instagram: @Turningpointpilates
Facebook: https://www.facebook.com/TurningPointPilates/
Twitter: @TurninPtPilates
Media Contact:
Robin Solo
(310) 617-6816
robin(at)turningpointpilates(dot)com