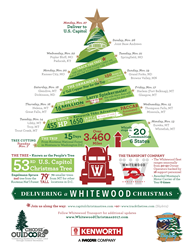 Permit Wizard is honored to support the U.S. Capitol Christmas Tree tour.
BRENTWOOD, Tenn. (PRWEB) November 01, 2017
While many American families may pick up their perfect tree from a corner lot or tree farm, then bring it home atop the family vehicle, that's just not possible for the U.S. Capitol Christmas Tree. With a 2,000-mile expedition from the Kootenai National Forest in Montana to Washington D.C. and historically averaging around 80 feet in height, the "People's Tree" requires much more thought and planning for its trip home.
Each year a different National Forest is selected to provide a tree to appear on the West Lawn of the U.S. Capitol for the Christmas season. This tradition is made possible thanks to companies large and small, as well as volunteers locally and across America who provide vital support of time and resources. This year, the Kootenai National Forest, in partnership with nonprofit Choose Outdoors, will provide this special gift to Washington, D.C. for the 2017 season with support from several sponsors, including Permit Wizard as the transportation permit sponsor for the fourth year running.
At an average 80-foot height, the "People's Tree" extends well beyond standard federal trailer length and load width limitations, so oversize/overweight transportation rules must be followed. Routes must be carefully planned in advance to avoid hang-ups and permits must be pulled from every state the tree travels through. Permit Wizard's vast knowledge of these requirements and the U.S. transportation system help ensure this cross-country trip goes without a hitch.
"Permit Wizard is honored to support the U.S. Capitol Christmas Tree tour," said Jeff Piefke, general manager at LexisNexis® VitalChek Network Inc., which manages Permit Wizard. "This is a wonderful opportunity for communities across the country to celebrate both the start of the holiday season and the forests that connect us all."
The tree will be cut in November and prepared for its 2,000-mile trek, passing through a number of community celebrations and culminating with the official tree lighting ceremony in Washington D.C. in early December. Also making the trip will be a number of smaller companion trees complete with ornaments created by Montanans. These trees will decorate offices inside the U.S. Capitol building and other sites throughout Washington, D.C.
"The annual journey is only possible with the help of strong community partnerships throughout Montana and beyond state lines," said Bruce Ward, founder of Choose Outdoors. "We're grateful for the time and resources Permit Wizard is providing to help make this the best tour to date."
For news, events and tour information, and to track the tree cross-country, visit http://www.capitolchristmastree.com, along with Facebook, Twitter and Instagram.
About Permit Wizard
Permit Wizard (https://permitwizard.com) is a service of LexisNexis® VitalChek Network Inc., providing permitting services for over dimensional permits from coast-to-coast through a secure web-based application, personal attention by experienced staff, and solid relationships with state and local government agencies. LexisNexis VitalChek Network Inc. also provides secure online ordering for vital records (http://www.vitalchek.com).
About the Kootenai National Forest
The Kootenai National Forest is in the extreme Northwest corner of Montana and Northeast Idaho and encompasses over 2.2 million acres, an area nearly three times the size of Rhode Island. The Forest is bordered on the north by British Columbia, Canada, and on the west by Idaho. Ranges of high craggy peaks mark the Forest with Snowshoe Peak in the Cabinet Mountains Wilderness at 8,738 feet, the highest point. The Whitefish Range, Purcell Mountains, Bitterroot Range, Salish Mountains, and Cabinet Mountains are all part of the rugged terrain radiating from the river valleys. The Forest is dominated by two major rivers, the Kootenai and the Clark Fork, along with several smaller rivers and their tributaries. Two hydroelectric dams on the Clark Fork have created the Cabinet Gorge and Noxon reservoirs within the Forest boundary. For more information, visit http://fs.usda.gov/Kootenai.
About the U.S. Forest Service
The mission of the U.S. Forest Service is to sustain the health, diversity and productivity of the nation's forests and grasslands to meet the needs of present and future generations. The agency manages 193 million acres of public land; provides assistance to state and private landowners; and maintains the largest forestry research organization in the world. Public lands the Forest Service manages contribute more than $13 billion to the economy each year through visitor spending alone. Those same lands provide 20 percent of the nation's clean water supply, a value estimated at $7.2 billion per year. For more information, see http://www.fs.fed.us.
About Choose Outdoors
Choose Outdoors works to increase all American's enjoyment, appreciation and support for outdoor recreation activities that connect them to our public lands. These connections will ensure that our public lands will always be there for future generations to cherish. http://www.chooseoutdoors.org.