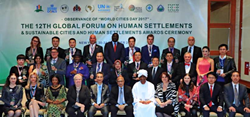 23 outstanding and remarkable projects were selected this year, demonstrating the increasing commitment to greening cities, human settlements and lifestyles, representing innovation from Bulgaria, Finland, France, Germany, Indonesia, India, Mexico, Nigeria, USA and China
NEW YORK (PRWEB) October 31, 2017
Bradd Morse of Canopy Tours, Inc., received a second consecutive "Sustainable Cities and Human Settlements Award" at the 2017 Global Forum on Human Settlements & Sustainable Cities, held at the U.N. Headquarters in New York City, October 30-31st. This worldwide prize is awarded annually with the support of the United Nations Environment Programme (UNEP).
This year's award specifically recognizes Tree Limin' Extreme Zipline in St. Thomas, USVI for the "Global Low-Carbon Ecological Scenic Spot" category. This award winning zipline destination was designed by Morse's New York based company, Canopy Tours, Inc in 2012 and is home of the Virgin Island's first zipline adventure.
Each year, the GFHS bestows the Sustainable Cities and Human Settlements Award to individuals, businesses, communities, or organizations. Ms. Mara Angélica Murillo-Correa of the United Nations Environmental Programme stated, "23 outstanding and remarkable projects were selected this year, demonstrating the increasing commitment to greening cities, human settlements and lifestyles, representing innovation from Bulgaria, Finland, France, Germany, Indonesia, India, Mexico, Nigeria, USA and China."
In addition to the conference and award ceremony, this year's delegation had the opportunity to experience one of last year's winning projects. New York Zipline Adventures at Hunter Mountain was the 2016 award recipient in this same category and was also designed and constructed by Bradd Morse and Canopy Tours, Inc.
"It is a tremendous honor to have been chosen to receive this award again," Morse said. "This project in particular is in our thoughts as the island of St. Thomas recovers from major storm damage." In September, 2017 the USVI was hit by two devastating category 5 hurricanes. Because of the eco-friendly structural design, Tree Limin' Extreme's course suffered minimal damages. Bradd Morse commented, "While we hope our attractions never need to survive storms of this magnitude, it is at least somewhat comforting to know that careful planning and precise construction techniques have spared the owners from the burden of having to rebuild their entire course amid the widespread destruction and challenges facing St. Thomas and the region. We commend Marc & Julie Bryan and the entire Tree Limin' crew for their attention to detail in the construction of their course and our hearts go out to all the residents of the affected Islands, as we pray for a full and rapid recovery."
With Canopy Tours, Inc., Morse designs zipline courses, treetop walkways, and other adventure attractions. His company also offers consulting services for clients around the world, with a focus on designing top-quality ecotourism installations that fully take into account their ecological and social footprint. Morse got his start installing adventure parks for camps and schools throughout his home state of Massachusetts.
Canopy Tours, Inc. has been building custom, sustainable tourism adventures throughout the world for the last thirty years and is recognized as a leader in the field. Each attraction is custom designed and based on the specific needs of the client, but also considers factors such as environmental and cultural impact as well as the long term sustainability of a project within the surrounding community.
For more information on Bradd Morse and Canopy Tours, Inc. visit: http://www.canopytourdesign.com