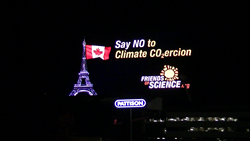 this is a concerning further step toward totalitarianism by climate change groups, one they've experienced with the Ecojustice call for an inquiry into Friends of Science billboards which occurred during the COP-21 Paris event
CALGARY, Alberta, Canada (PRWEB) November 01, 2017
With the Bonn UN COP-23 climate conference just days away, as reported by Deutsche Welle on Oct. 30, 2017, Canada's Rebel Media is reporting it has been denied press accreditation in a YouTube video entitled "Rebel BLOCKED from UN Climate confab (but we're going anyway)" released Oct. 26, 2017. This is ironic considering UN Universal Declaration of Human Rights states in Article 19: "Everyone has the right to freedom of opinion and expression; this right includes freedom to hold opinions without interference and to seek, receive and impart information and ideas through any media and regardless of frontiers."
Reporter Sheila Gunn Reid says they were told that a Canadian delegate requested that The Rebel be denied access on grounds of harassment at the COP-22 event, a claim The Rebel denies, and for which no verifiable evidence or prior complaint exists.
The Rebel Media reports they were also denied press accreditation for the COP-22 event until public outcry and lobbying by various journalist associations forced the UN COP-22 press agency to relent.
Friends of Science Society says this is a concerning further step toward totalitarianism by climate change groups, one they've experienced with the Ecojustice call for an inquiry into Friends of Science billboards, which occurred during the COP-21 Paris event as reported by the National Observer, Dec. 3, 2015. This call for inquiry was issued just hours before a mock 'climate justice' trial in Paris against Exxon as 'climate criminals,' performed by Naomi Klein, as reported by Democracy Now, Dec. 31, 2015.
The Bonn Cop-23 will be hosted by Fiji, a country that has long claimed it will drown due to sea level rise. Recent peer-reviewed study shows there has been no sea level rise in Fiji as reported in Science Matters blog of Oct. 24, 2017
In the lead-up to COP-23, former VP of the IPCC, Jean-Pascal van Ypersele, was tweeting from Fiji about his pre-Bonn work-up. In the past, Canadian investigative journalist Donna Laframboise has been critical of van Ypersele as an official with the IPCC for working with Greenpeace, as posted in her blog of Mar. 17, 2015.
Her book "The Delinquent Teenager…" documents her findings on how the IPCC is rife with green activists whose green-agenda leads to bias. Her full presentation is posted on the Friends of Science youtube site. LINK; youtu.be/blf06y-mRh8
Former science colleague of van Ypersele's, the esteemed scientist Istvan Marko, was outspoken on his view that the COP conferences are more like a climate trade fair; the last interview before his untimely passing was just published by Breitbart, Oct. 28, 2017
Friends of Science Society says climate policies cost taxpayers and industry trillions of dollars every year in regulation, costly energy policies, subsidies, and carbon taxes. The public have a right to transparency and freedom of the press as well as freedom of speech; all are hallmarks of democracy and scientific inquiry.
About
Friends of Science Society is an independent group of earth, atmospheric and solar scientists, engineers, and citizens, celebrating its 15th year of offering climate science insights. After a thorough review of a broad spectrum of literature on climate change, Friends of Science Society has concluded that the sun is the main driver of climate change, not carbon dioxide (CO2).
Friends of Science Society
P.O. Box 23167, Mission P.O.
Calgary, Alberta
Canada T2S 3B1
Toll-free Telephone: 1-888-789-9597
Web: friendsofscience.org
E-mail: contact(at)friendsofscience(dot)org
Web: climatechange101.ca