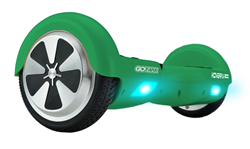 "Hoverboard technology has come a long way, and GOTRAX™ is on a mission to be at the forefront of making that technology accessible to everyone."
Denver, CO (PRWEB) November 01, 2017
GOTRAX™, a Denver-based brand of electric rideables driven by imagination and innovation with a focus on science and education, expands its line with the introduction of the budget-friendly HOVERFLY ECO, its most affordable hoverboard to date.
Building on the success of its signature hoverboards, the HOVERFLY and HOVERFLY PLUS, GOTRAX™ engineered the HOVERFLY ECO to make all the performance of the original available at an even greater value.
"Hoverboard technology has come a long way, and GOTRAX™ is on a mission to be at the forefront of making that technology accessible to everyone," says Chief Marketing Officer Jason Wakefield. "The ECO makes all the same fun and features of the HOVERFLY accessible at a price point for any budget."
Fully UL 2272 certified, the HOVERFLY ECO hoverboard is powered by dual 250-watt electric motors capable of propelling riders up to 7.4 miles-per-hour for 12 miles on a single charge.
Available in five "Cosmic Colors," the HOVERFLY ECO features "Lunar bright" LED direction indicator lights, durable high-quality construction with an external shield, aluminum wheels, rubber tires and non-slip rubberized foot pads. Multiple modes, including a Training Mode for quick and easy learning, make it easy to tailor the HOVERFLY ECO's performance to any experience level.
Also launching is the off-road ready HOVERFLY XL hoverboard, featuring 8.5-inch all-terrain tires capable of traversing sand, dirt, gravel and grass, and scaling slopes up to 30 degrees.
To celebrate the launch, GOTRAX™ is offering the chance to win a HOVERFLY ECO or XL in an exclusive hoverboard giveaway. Those interested can enter to win at GOTRAX.com.
The GOTRAX™ HOVERFLY ECO retails for $199 (with a special introductory price of $159; $149 after $10 discount code available with email signup) and is available now at GOTRAX.com, Amazon, Walmart.com, in-store at Dunham's Sports and other fine retailers.
SPECIFICATIONS

Designed in Denver
UL 2272 Certified
6.5-inch rubber tires
Lunar-bright LED direction indicator lights
Rubber non-slip foot pads
Cosmic Colors (Mars Red, Nebula Black, Alien Green, Planetary Purple and Neptune Blue)
Easy learning system with Training Mode and Quick Launch Galaxy Guide
Dual 250W motors
Range of up to 12 miles on a single charge
7.4 mph top speed
Durable construction featuring dual fender foot-guards, powerful external shield, aluminum wheels
220-pound weight capacity (44-pound minimum)
Fully charges in approximately one hour
Battery indicator lights
GET SOCIAL: @RideGOTRAX
ABOUT GOTRAX
Welcome to the GOTRAX™ GALAXY, where every day's the weekend and robots are our friends. We're on a mission to create electric rideables that boost imaginations and the possibilities for personal transportation. As of 2017, GOTRAX™ is dispatching electric rideables across the planet, starting with the HOVERFLY two-wheel self-balancing electric scooter aka hoverboard. Our company values start right here in our Denver-based marketing headquarters, where our team works their space boots off to raise the standards of the electric rideables industry, with a brand focus on science and education designed to encourage a sense of learning and discovery for children.
GOLABS, INC™ DBA GOTRAX™
###
MEDIA INQUIRES
Don Stefanovich | press(at)gotrax(dot)com