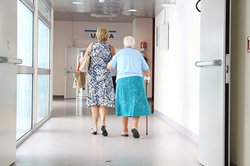 Aging Life Care Managers work with families to find solutions to caregiving challenges and can help you understand your loved one's dementia and associated behaviors.
Tucson, AZ (PRWEB) November 01, 2017
Caring for someone with dementia can test even the strongest of relationships. The anxiety, agitation and erratic behavior often associated with dementia may be hard for a spouse or adult child to understand or manage. According to the Alzheimer's Association, more than 5 million people are currently living with Alzheimer's. By 2050, this number could increase to 16 million, making Alzheimer's and other dementias a growing health concern.
As each stage of dementia progresses, new behaviors and symptoms can develop. Difficulty remembering names and phone numbers, a decrease in social interaction, and denial of the problem are all signs of mild to moderate dementia. In more severe cases, individuals may forget family members' names, have a decreased verbal ability, and lack awareness of one's surroundings. Seeking an objective professional assessment is critical in obtaining the right intervention strategy for your loved ones.
If you are caring for a loved one with dementia, it is important to look for help and support from others. Asking for assistance or support does not make you less of a caregiver. In fact, it enables you to be a better caregiver. Your local Alzheimer's Association is a great resource for information and support groups, and many communities have an Area Agency on Aging that may direct you to support services in your area.
Aging Life Care™/geriatric care managers are also an excellent source of information and support. Working with families, the expertise of Aging Life Care Manager™ provides the answers at a time of uncertainty. Their guidance leads families to the actions and decisions that ensure quality care and an optimal life for those they love, thus reducing worry, stress, and time off of work for family caregivers. The Journal of Aging Life Care's most recent issue addresses atypical dementias, and can be read for free here.
Aging Life Care Managers™ work with families to find solutions to caregiving challenges and can help you understand your loved one's dementia and associated behaviors. This National Alzheimer's Awareness Month, take the opportunity to learn more about Alzheimer's and other dementias, and to seek help out when needed.
ABOUT the Aging Life Care Association (ALCA)
ALCA (formerly known as the National Association of Professional Geriatric Care Managers) was formed in 1985 to advance dignified care for older adults and their families in the United States. Aging Life Care Professionals® have extensive training and experience working with older adults, people with disabilities, and families who need assistance with caregiving issues. They assist families in the search for a suitable nursing home placement or extended care if the need occurs. The practice of Aging Life Care™ and the role of care providers have captured a national spotlight, as generations of Baby Boomers age in the United States and abroad. For more information or to access a nationwide directory of Aging Life Care Professionals, please visit aginglifecare.org.