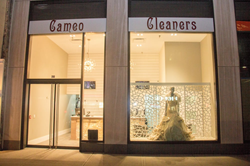 I couldn't be happier with Cameo. I brought three of my grandmother's vintage dresses (50s and 60s) here to be cleaned and repaired so that I could wear them. After decades of improper storage they are now stunning. Cameo may be more expensive than others but it's worth every penny..." - Kristin
New York, NY (PRWEB) November 07, 2017
Cameo Cleaners, New York's premier couture dry cleaner and garment care services for over 60 years, today offered recommendations on cleaning of drapes and upholstery as the Fall season commences. Based on extensive experience, Cameo wants customers to understand how summer weather leaves drapery, rugs and upholstery vulnerable to damage if not professionally cleaned.
"New York City drapery cleaning is not a game," said a spokesperson for the company. "Our clients have usually made substantial investments in these aspects of their interior décor. They deserve high-end cleaning services. This is what we do. We're a local cleaner offering the best quality service."
Cameo also noted how drapes and curtains can be cumbersome to clean. This is especially true for large, ornate and permanently-installed window treatments. "Embellishments may make cleaning difficult without damaging the piece," the spokesperson added. In many cases, the best option is to let Cameo Cleaners make a house call so the customer avoids damaging elaborate curtains.
Summer is also a time when insects can get into drapes. With the windows open, New York residents risk having insect damage on their drapes. Cameo Cleaners can fix this problem. The company can also make difficult-to-eliminate upholstery stains disappear. They perform the service on site in customers' homes.
Customers have expressed delight at Cameo's drapery and upholstery cleaning. One Manhattan resident explained, "They definitely know what they are talking about and only let trained experts touch your fine linens or draperies."
Cameo's flagship store is located at 280 Third Avenue, near 23rd Street. This facility is capable of doing almost any type of cleaning. Cameo has served its customers continuously since 1958. They are trusted by such world-famous organizations as the Metropolitan Opera, Fashion Institute of Technology (FIT) and the Cooper Hewitt Museum. Other services include care of accessories and handbags, fur glazing, garment restoration, cleaning of delicate interior fabrics such as curtains and Oriental rugs, bed linens and tablecloths.
For more information, visit http://cameocleaners.com.
Cameo Cleaners
280 Third Ave
New York, NY, 10010, USA
+1 (212) 677-3949