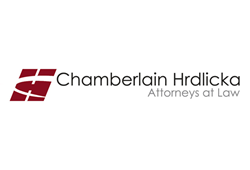 PHILADELPHIA (PRWEB) November 01, 2017
National law firm Chamberlain, Hrdlicka, White, Williams & Aughtry is pleased to announce that it again has been named a "Best Law Firm" by U.S. News – Best Lawyers®, achieving national Tier 1 rankings in the practice areas of tax law, tax litigation and trusts and estates law.
The firm's offices in Houston, San Antonio and Atlanta also achieved metropolitan Tier 1 rankings, demonstrating the prowess of the attorneys in the practice areas of tax litigation, trust and estates law, and immigration law.
Best Law Firms rankings are based on a rigorous evaluation process that includes the collection of client and lawyer evaluations, peer review from leading attorneys in their field and review of additional information provided by law firms as part of the formal submission process.
The highest honor, a Tier 1 ranking, is based on a firm's overall evaluation, which is derived from a combination of its clients' impressive feedback, the regard that lawyers in other firms in the same practice area have for the firm, and information that the firm provided to Best Lawyers via a survey.
To be eligible for a Best Law Firm ranking, a firm must have at least one lawyer included in The Best Lawyers in America®. Attorneys are neither required nor allowed to pay a fee to be listed. From Chamberlain Hrdlicka's four offices nationwide, a record 23 attorneys were named among Best Lawyers for 2018 and were recognized for their work in tax law, tax litigation and controversy, trusts and estates, employee benefits (ERISA) law, construction law, and immigration law. They are:

Atlanta – David D. Aughtry, Thomas E. Jones, Jr., J. Scot Kirkpatrick, Nicholas S. Papleacos, Seth R. Price, Hale E. Sheppard
Houston – Lawrence M. Bass, Brett Berly, Larry A. Campagna, George W. Connelly, Jr., Jack P. Eckels, George A. Hrdlicka, Stephen M. Mason, Lawrence W. Sherlock, Juan F. Vasquez, Jr., Kerry C. Williams, Peter D. Williamson
Philadelphia – Philip Karter, Kenneth Trujillo, Stewart M. Weintraub
San Antonio – William H. Lester, Jr., Charles J. Muller, Joshua A. Sutin, Jaime Vasquez
About Chamberlain Hrdlicka – Chamberlain Hrdlicka is a diversified business law firm with offices in Houston, Atlanta, Philadelphia and San Antonio. The firm represents both public and private companies as well as individuals and family-owned businesses across the nation. In addition to its nationally recognized tax planning and tax controversy practice, the firm represents clients in appellate law, bankruptcy, restructuring, reorganization and creditor rights, construction law, corporate, securities & finance, employee benefits and executive compensation, employment law, energy and maritime, government and regulatory matters , immigration, insurance, intellectual property, international, labor and employment litigation, real estate and white collar criminal defense.