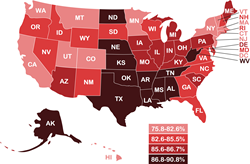 The largest contributing lifestyle factor to overfat would appear to be excess sugar consumption
ORACLE, Ariz. (PRWEB) November 03, 2017
With the holidays just around the corner, researchers blame excess sugar consumption for Americans being fatter than ever.
A new study published in the November issue of Frontiers of Public Health estimated 91 percent of American adults and 69 percent of children are overfat. The term overfat is defined as having enough excess body fat to impair one's health, and is associated with at least one additional risk factor of impaired cardiovascular, metabolic or physical health.
The study by researchers Philip Maffetone and Paul Laursen uses new data from the Centers for Disease Control and Prevention. At the time of this publication, the CDC also released the most recent data on U.S. obesity rates, which were slightly higher and indicate overfat rates may be even worse.
The study also compared adult body fat percentages measured by dual-energy X-ray absorptiometry from the National Health and Nutrition Examination Survey. These showed most Americans had body-fat levels above 31.6 percent and 17.6 percent in women and men, respectively. Health impairments can start at levels around 30 percent in women and 15 percent in men.
The problem of excess body fat is found in most overweight and obese individuals, but also in many who are normal-weight. This is often due to excess abdominal fat.
Both the traditional body mass index and scale weight are ineffective in assessing body-fat excess, according to the researchers. Instead, they recommend waist-to-height ratio as the most convenient, inexpensive and valuable clinical indicator of overfat risk for everyone, with the simple recommendation that the waist measurement be less than half the height.
In two previously released studies this year, the authors showed very high rates of overfat throughout the world, defining it as an overfat pandemic.
Along with rising overfat rates, participation in exercise has paradoxically increased among U.S. adults to 52 percent. While exercise has many potential benefits, this data suggests that the public health policy of encouraging more physical activity is having little observable impact on actual waistlines or health.
The authors emphasize that current public health guidelines to address the overfat pandemic may require more focus on reducing the consumption of refined carbohydrates, including added sugars.
"The largest contributing lifestyle factor to overfat would appear to be excess sugar consumption," Maffetone says. "Rather than wait for public health guidelines, individuals can be proactive by choosing to eliminate junk food, especially sugar, from their diet."
The health consequences of being overfat are widely known. The condition is linked to various disease risks, such as abnormal cholesterol, triglycerides and blood sugar, and hypertension, which can trigger chronic diseases such as cancer, diabetes, heart and Alzheimer's disease.
In addition, many physical performance impairments are associated with being overfat. These include musculoskeletal disorders, such as lower-back and other pain syndromes, and reduced work productivity in forms such as absenteeism and disability.
Excess body fat is also seen in athletes and those in active military, and in young children, impairing motor skills, and physical, cognitive, and social development.
In addition to reducing quality of life, the overfat population continues to significantly increase healthcare expenditures, which, in 2014 was $3.2 trillion in the U.S. alone.
The full study can be read here:
https://www.frontiersin.org/articles/10.3389/fpubh.2017.00290/full