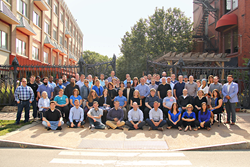 Each employee's passion and determination to drive our vision and mission is why we are able to make this list three years in a row, and it will be this team that drives the next generation of success for CaterTrax."
Rochester, New York (PRWEB) November 02, 2017
Leading Catering Management Software company, CaterTrax is celebrating their third consecutive year on the Rochester Chamber Top 100 List, jumping 30 spots since 2016 to number 52. This award recognizes the fastest growing privately owned companies in the Greater Rochester region. CaterTrax has experienced double-digit growth since their inception over a decade ago, and attributes this growth to the hospitality the CaterTrax team demonstrates.
"The hospitality of TRAXERS will never be far from view. The level of service that we provide has fueled our growth and it's our people that power that. The spirit of hospitality is present from conversations at the water cooler to the sales demo through the client's lifetime. The level of care that is taken is a force that has united us and is what we rely on. We have grown by leaps and bounds because of it. Hospitality is our foundational core value and our 18 teams work together to define that every day and that's what keeps us going," said CEO and Co-Founder Rich Rund.
Located in downtown Rochester's Village Gate, CaterTrax employs almost 100 people from the Rochester area. Over the past 2 years, the company has proudly recognized employees with three, five, and ten years of service to the company, while the biggest companies in tech boast under a 3 year average stint for their employees.
"Three years ago we collaborated with our teams to outline the 10 core values for being an Ambassador of Hospitality – a CaterTrax employee. These are the values that we have built our company on and are reflected in every member of our team. They've helped us create an environment that draws in the right people and makes them want to be here. When I reflect on how grateful I am to have this outstanding team fueling our growth, I think of that value passionate and determined. Each employee's passion and determination to drive our vision and mission is why we are able to make this list three years in a row, and it will be this team that drives the next generation of success for CaterTrax." added CIO and Co-Founder Dan Welch.
CaterTrax serves thousands of clients across the United States and Canada, partnering with North America's top non-commercial foodservice providers. Despite their nationwide reach, the company maintains strong ties to the local Rochester community, hiring local talent and encouraging employees to give back to the community. Earlier this year, the company was featured in an article in the Rochester Business Journal, naming it as one of the software companies that is part of an emerging tech hub in Rochester. Last year, the company said their success is first and foremost their people, and Rochester has proven a great place to attract the humble, hungry, and smart talent they are looking for as they continue to grow.