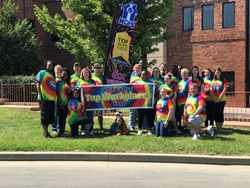 I go home every day knowing that I've made a difference
ST. LOUIS (PRWEB) November 02, 2017
Home Delivery Incontinent Supplies Co. (HDIS) aims to fill 100 positions across the company in the next 3 to 6 months. According to the Cabinet for Economic Development, economists suggest there could be a multi-million dollar ripple effect from this wave of hiring that will benefit state and local governments in the form of tax revenues, fees, and licenses (1).
HDIS is the country's largest mail order service for discreet home delivery of bladder control products. Customers receive friendly and knowledgeable service from an award winning staff.
Erica Hunter, an HDIS Customer Care Representative, summed it up best by saying, "I go home every day knowing that I've made a difference in someone's life. I feel appreciated by both our customers and the people I work with." HDIS is a family business that treats customers as an extension of the business family, with compassion and understanding.
Making a Difference extends into all areas of the company at HDIS. Every year employees receive a paid day off to volunteer in the community. The company's Charitable Contributions Committee fundraises and donates thousands of dollars to non-profits as well.
Now the company is seeking qualified individuals to join their growing team. "We are accelerating our growth over the next few years. That means we will be hiring in all areas of the business here in St. Louis and creating career opportunities as well," says Mark Nedvin, Managing Director of HDIS. "The mission of our company is to help our customers live fuller and easier lives, despite any health challenges they may have. We are looking for people, from entry-level to management, who want to focus on helping people and are willing to go the extra step to make a difference in our customers' lives."
HDIS is a Six-Time consecutive winner of the St. Louis Post-Dispatch's Top Workplace Award. The dedication to customer service at HDIS has earned it an A+ rating and a Torch Award from the Better Business Bureau for exceptional ethics & service.
Throughout our organization, there's a job waiting to be filled by the right candidate. Specifically, HDIS is hiring:

Call Center Positions
30+ Customer Care Representatives
Quality Assurance
Team Leaders
Supervisors
Call Center Traffic Manager
Operations Managers
Fulfillment Center Positions
20+ Order Selectors
Management Opportunities
Vice President of Medicare and Medicaid Reimbursement
Director of Talent Acquisition
Executive Assistant
To apply for a career with HDIS, please visit http://www.hdis.com/careers
About HDIS:
HDIS (Home Delivery Incontinent Supplies Co.) is the leading national direct-to-consumer provider of adult incontinence and related products. Founded in 1986 and headquartered in Olivette, Missouri, HDIS provides customers with high-quality products and award-winning personalized customer service.
In 2016, HDIS was purchased by the Domtar Corporation, joining the Domtar Personal Care Division. Domtar is a leading provider of a variety of fiber-based products including communication, specialty and packaging papers, market pulp and absorbent hygiene products. Domtar's annual sales are approximately $5.3 billion and its common stock (NYSE: UFS) (TSX: UFS) is traded on the New York and Toronto Stock Exchanges.
The mission of HDIS is to be caring friends that make life fuller and easier for people with special health needs, their caregivers, and their families.
To learn more about HDIS, visit http://www.HDIS.com or call 1-800-2MY-HOME (1-800-269-4663).
Source (1) "Just the Facts: Economic Impact of 100 Jobs". May 2016. Office of Research and Public Affairs, Cabinet for Economic Development, ThinkKentucky.com.