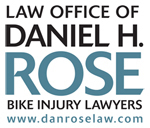 SAN FRANCISCO (PRWEB) November 02, 2017
The Law Office of Daniel H. Rose will once again be the Presenting Sponsor of Bike East Bay's Biketopia, their winter member party and fundraiser, taking place on November 9, 2017 from 6:30-10:00 pm at the Impact Hub at 2323 Broadway in Oakland. Bike East Bay, formerly named the East Bay Bicycle Coalition, is the San Francisco East Bay's primary bicycling advocacy, education and community involvement organization.
The event is always packed with hundreds of enthusiastic, fun-loving, and compassionate bicyclists and community activists - it is a fun-filled evening of delicious food, brews, music, great company, lively conversation, and an impressive selection of 100+ items at their silent auction. Attendees may bid on items such as Warriors tickets, weekend stays in Lake Tahoe and elsewhere, bicycles such as a Faraday electric city bike, various bike accessories, tours, and much more.
The Bike East Bay organization promotes healthy, sustainable communities by making bicycling safe, fun and accessible. Through advocacy, education, and community engagement, Bike East Bay tirelessly works to support the development of a vast and seamless network of bicycle facilities, cultivates bicycle and people friendly street design, increases funding for bicycle projects and improvement, educates the public through partnerships with law enforcement, schools, employers, riding clubs, and others, and increases awareness and appreciation of cycling.
The Law Office of Daniel H. Rose is a San Francisco based law firm which specializes in representing those injured in pedestrian and bicycle accidents throughout the Bay Area and beyond. Our firm supports several bicycle and pedestrian advocacy organizations and coalitions.
LAW OFFICE OF DANIEL H. ROSE
One Sansome Street, Suite 3500
San Francisco, California 94104
Tel: (415) 946-8900 Fax: (415) 221-0892