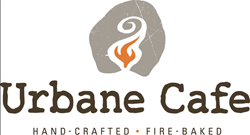 "As we continue to grow," Tom Holt, owner of Urbane Cafe said, "we know the importance of supporting the people who support us. This is why we open our restaurants with events that contribute to organizations throughout each community."
ENCINITAS, CA (PRWEB) November 03, 2017
Today's truly successful Fast Casual restaurants deliver great food, great value, exemplary service, AND dedicated involvement within the communities they serve. This is the foundation of Urbane Cafe, a family owned, fast casual restaurant, known for their fire-baked focaccia bread sandwiches and unique salads since 2003. On Monday, November 6th, they will celebrate the Grand Opening of their 13th restaurant in California, this time in the San Diego County city of Encinitas, located at 1042 N. El Camino Real.
"As we continue to grow," Tom Holt, owner of Urbane Cafe said, "we know the importance of supporting the people who support us. This is why we open our restaurants with events that contribute to organizations throughout each community."
Urbane Cafe has planned multiple special events that pay it forward to the Encinitas community.
Friday, November 3rd, 11:30am – 1:30pm
PRE-GRAND OPENING – ENCINITAS BALLET NUTCRACKER FUNDRAISER
The Encinitas Ballet Company is a long-standing member of the community that encourages and grows budding ballet dancers. Friday, November 3rd, from 11:30am to 1:30pm, Urbane Cafe guests who make a donation of any amount to the Encinitas Ballet Company, will receive a complementary hand-crafted sandwich or farm-fresh salad, craft sodas and delicious, freshly-baked cookies. All donations received will be matched by Urbane Cafe.
Friday, November 3rd, 5pm – 7pm
and Saturday, November 4th, 11:30am – 1:30pm
PRE-GRAND OPENING – VIP FUNDRAISER FOR SURFING MADONNA
The Surfing Madonna Oceans Project, a non-profit located in Encintas, CA, is dedicated to bringing the community together to "Save the Ocean" and protect our coastline. These two VIP celebrations will raise money for Surfing Madonna through guest donations that will be matched by Urbane Cafe.
Monday, November 6th, 11am – 8pm
URBANE CAFE'S OFFICIAL GRAND OPENING
Special giveaways for the first 50 guests through the door.
Tuesday, November 7th, 11am – 8pm
SERVICE GIVE BACK DAY
All Police and Firemen in uniform dine free. If it is their day off and they are not in uniform, they can present their ID's to receive the same special treatment.
Wednesday, November 8th, 11am – 8pm
TEACHER APPRECIATION DAY
All teachers showing their ID will receive a complementary sandwich or salad, and a special gift.
Thursday, November 9th, 11am – 8pm
LOVE OUR NEIGHBORS DAY
Local Urbane Cafe neighbors will receive a warm neighborly Urbane-style treat.
Friday, November 10th, 11am – 8pm
SAVVY STUDENT DAY
All students showing their ID will receive a complementary sandwich or salad.
Saturday, November 11th, 11am – 8pm
VETERANS & BLUE STAR FAMILY APPRECIATION DAY
All veterans showing their ID receive a complementary sandwich or salad, and children of all Blue Star Families eat free by showing the family's Military ID.
Sunday, November 12th, 11am – 8pm
SURFING MADONNA BEACH RUN RECOVERY
Every year, thousands of locals take part in the Surfing Madonna Beach Run, which occurs on Sunday, November 5th. The following Sunday, November 12th, all Beach Run participants are invited to Urbane Cafe to receive a complementary sandwich by showing their racing bib.
Monday, November 13th, 11am – 8pm
WORLD KINDNESS DAY
Random acts of kindness will be shown to Urbane Cafe guests throughout the day.
For information about Urbane Cafe, please visit http://www.urbanecafe.com. For more event information, contact Christi Christian at 1-805-701-0329 or email her at: christi(at)urbanecafe(dot)com.
ABOUT URBANE CAFE
Known for its fresh fire-baked focaccia breads, hand-carved meats and hearty salads, Urbane Cafe is a consistent favorite on Yelp, Urbanspoon, TripAdvisor and other restaurant review websites. Popular with health-and-budget-conscious customers for 14 years, Urbane Cafe is a lunch and dinner destination for families and business people who want a fast, fresh, affordable meal. The lunch and dinner menu at each Urbane Cafe restaurant features fresh, healthy sandwiches and salads served in a warm, inviting setting. Catering and Take-Out are also popular. Though the restaurants span from Southern California to the Central Coast, owner Tom Holt retains a close, hands-on role in every aspect of the business, ensuring that standards of quality are consistent throughout the chain.
Our now 13 Urbane Cafe's are all about making great gourmet sandwiches and salads for guests in Ventura, Agoura Hills, Camarillo, Encinitas, Mira Mesa, Northridge, Oxnard, San Diego, San Luis Obispo, Simi Valley, Temecula, Thousand Oaks, and Valencia. Urbane Cafe can also be found on Facebook, Instagram and Twitter.