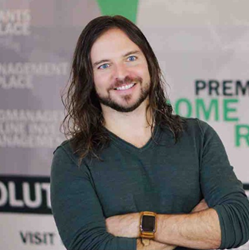 This is an investment designed to serve all different types of individuals looking for accelerated returns or maybe just an awesome passive strategy. Our partnership with wealth and financial firms helps us know our client better and take a more personalized approach
CHICAGO (PRWEB) November 02, 2017
Justin French and his award-winning team at SDIRA Wealth are expanding to empower America's financial advisors with the products and services needed to help clients win in the new investment landscape.
SDIRA Wealth's CEO brings a wealth of knowledge and experience having been an executive in the Sales Industry for the majority of his career. He has a passion for team development and leading companies to new highs. He has an art for simplifying and streamlining procedures that have been pivotal in SDIRA Wealth's journey.
French has said, "I like to remain humble on my achievements and stay focused on what is important, serving others. Having grown up in the ministry, I am deeply devoted to helping others do their absolute best. This has always been at the forefront for me while helping our clients achieve their financial goals as well. I am so excited that our company has taken the logical next step of partnering with other wealth firms and not only assist them in growing their business by providing a top-notch product, but ultimately helping more Americans retire successfully."
SDIRA Wealth has made a name for itself with its award-winning performance, in the self-directed investment space providing unparalleled returns for its investors. They have been nationally recognized, having received accolades from the Chicago Innovation Awards and honored with ringing the NASDAQ bell at opening ceremonies. With the company's fast growth and outreach it has become an asset to existing firms in the investment industry looking to add diversity to their clients' portfolios without challenging their current strategies.
French says, "This is an investment designed to serve all different types of individuals looking for accelerated returns or maybe just an awesome passive strategy. Our partnership with wealth and financial firms helps us know our client better and take a more personalized approach. Our partner firms appreciate the opportunity to provide an additional option for their clients that can be utilized in conjunction with their current strategy, not competition."
SDIRA Wealth's partnership program as well as its award-winning products and technology are available to wealth and financial firms through the SDIRA Wealth brand. To learn more visit http://www.sdirawealth.com