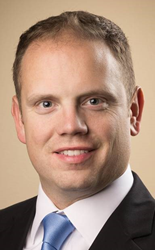 Reno, Nevada (PRWEB) November 01, 2017
Massillamany & Jeter LLP Partner Chris Jeter began a one-week sabbatical today as a partner at the firm to assist Nevada Attorney General Adam Laxalt conduct a statewide tour to announce his bid for Governor of that State. The statewide tour will make more than a dozen stops in seven days across the State, starting in Reno on November 1 and ending in Las Vegas on November 7. Laxalt and Jeter were colleagues and friends during their days on active duty in the U.S. Navy. The two men were deployed to Baghdad together in 2006 in support of Operation Iraqi Freedom where they worked to assist Iraqi officials prosecute terrorists. They followed their deployment by being stationed together as part of Naval Forces Europe, both men in Italy, with Jeter in Naples and Laxalt on the island of Sigonella. The two men forged a deep friendship during their service together.
"I got to know Adam during officer training and while we were stationed together," Jeter stated. "We spent a lot of time together in training and during our deployment to Iraq," Jeter said. "I quickly learned how principled and measured he was in his approach to issues," he added. "We were in some stressful situations, and he always showed poise and leadership, "Jeter continued. "He will be a great Governor." More than a political mission, Jeter sees this as a chance to help a friend. "While he is an inspiring guy, Adam is a great friend and I'm happy to be able to help him launch this exciting stage of his career" Jeter said. Jeter will meet Laxalt and his team in Reno on November 1 and stay with them through the final stop in Nye County, an hour outside of Las Vegas.
Adam Laxalt is widely seen as a rising star within the Republican Party. As Attorney General, he has worked on issues of community safety, law enforcement support, and increased punishments for sexual assault crimes. He is a staunch supporter of the Second Amendment and has continually fought against federal government overreach, particularly in the area of land rights.
Massillamany & Jeter LLP is a full-service law firm based in Hamilton County but serving the entire State of Indiana. The firm focuses its practice in the areas of personal injury, criminal defense, corporate law, civil litigation, family law, estate planning, appeals and government services. The Firm has offices in Fishers, Carmel, Noblesville, Plainfield, Greenwood, and Lawrence.
For more information, please visit http://www.mjattorneys.com or visit us on social media:
Facebook: http://www.facebook.com/mjattorneys
Twitter: @massjeter