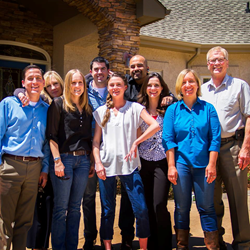 Our team is dedicated to putting Colorado Springs residents into the right home whether it's real estate or foster care.
Colorado Springs, CO (PRWEB) November 02, 2017
Realtor Jeff Johnson, founder of The Johnson Team, recently partnered in opening a new Keller Williams real estate office, KW Premier Realty, in Colorado Springs, located at 1257 Lake Plaza Drive, Suite 200. "We're doing it because when you gather a group of people all dedicated to the same thing (serving our community and giving our clients the next level of service) amazing results will happen," said Johnson, formerly of RE/MAX Real Estate Group.
This transition is happening because it will help continue The Johnson Team's vision of "pioneering the next level of service" and giving its agents "a better quality of life." The Johnson Team has continually closed more homes than any other team in Colorado because "We put our clients first, always, and starting KW Premier Realty will continue to ensure that our agents have better lives and our clients have the best service. No one trains their agents better than Keller Williams," stated Johnson. "And this will transfer over to even better service to Colorado Springs. Our goal is to be the team of choice for clients and agents in Colorado Springs."
"Jeff Johnson and his team are beyond amazing," said client Kaitlynn B. "Being nine months pregnant selling my home was a challenge, but The Johnson Team did everything in their power to help me and I couldn't be more appreciative."
In addition to real estate, The Johnson Team is passionate about foster care. In fact, The Johnson Team gives a percentages of their paychecks to foster care agencies.
"I can't even express how proud I am that the entire team has stepped up to help our local foster children and local foster parents. We raised $19,000 through a Hope & Home fundraiser, The Fashion Show," concluded Johnson. "If our team reaches our sales goals this year, we will have another $7,000 to donate to at least one other charity in Colorado Springs. Our team is dedicated to putting Colorado Springs residents into the right home whether it's real estate or foster care."
About Jeff Johnson, The Johnson Team, Keller Williams
The Johnson Team has dedicated agents that specialize in working with both buyers and sellers. They're committed to moving mountains, whether that mountain is selling a home in a difficult situation or helping a child into a home. For more information, please call (719) 930-5169, or visit http://www.johnsonteamworks.com.
About the NALA™
The NALA offers small and medium-sized businesses effective ways to reach customers through new media. As a single-agency source, the NALA helps businesses flourish in their local community. The NALA's mission is to promote a business' relevant and newsworthy events and achievements, both online and through traditional media. The information and content in this article are not in conjunction with the views of the NALA. For media inquiries, please call 805.650.6121, ext. 361.