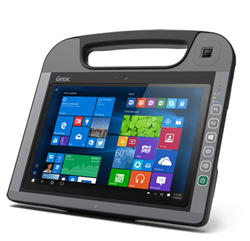 This project with VTMAE is an example of how a true partnership works.
CHANDLER, Ariz. (PRWEB) November 07, 2017
Group Mobile, a rapidly expanding premier provider of innovative, full-service mobile technology solutions today received the initial purchase order to begin a large project deployment from VTMAE, one of the nation's largest premiere Maintenance Ready Organization (MRO) and provider of aircraft maintenance and services for both commercial and private aviation operators. Group Mobile will provide a full suite of pre-and post-deployment services accompanied with Getac RX10 rugged tablets to approximately 1,000 aviation and field technicians to streamline work order management and point of work access to aircraft manufacturer technical diagrams and data.
Rodger Jenkins, Chief Strategy Officer, Group Mobile stated, "This project with VTMAE is an example of how a true partnership works. VTMAE's project manager, along with their IT staff and support engineers of Group Mobile have been working to find the optimal solution for over 2 years. After many trials, different selections of equipment, multiple configurations, and testing for ROI, VTMAE chose to deploy Getac's RX10 rugged tablets. During these evaluations, we tested under strenuous wireless access requirements and moving coverage zones to find a solid solution — this is true partnership, VTMAE, Getac and Group Mobile."
VTMAE has chosen the Getac RX10 rugged tablet after spending thousands of dollars deploying commercial grade devices with extremely high failure rates in the past failing to meet the ROI and needs of the end users. The Getac RX10 rugged tablet computer is purpose-built for field service and harsh environments. The combination of an Intel Core M processor, 10.1-inch brilliant display, which operates in extreme temperatures and wet environments while using a stylus, digitizer, or gloves. The RX10 rugged tablet PC offers tri pass-through antenna ports simultaneously to connect high-gain GPS, WWAN and WLAN roof-mounted antennas for expanded signal range.
About Group Mobile
Group Mobile, a wholly owned subsidiary of Form Holdings, headquartered in Phoenix, AZ, serves customers world-wide. Group Mobile is a rapidly expanding and growing and innovative full end-to-end solution provider of rugged mobile hardware, lifecycle services, system integration, hardware service support, pre-and post-deployment, break-fix, warranty repair, customer support helpdesk and more — all constructed to solve pressing problems and ensure our customers are receiving exceptional value, return on investment and a trusted long-lasting partnership. Group Mobile has mastered the true challenges of mobility through understanding the key elements required for a successful mobile deployment — hardware, connectivity, data and customer back-end network infrastructures. Visit http://www.groupmobile.com for more information.