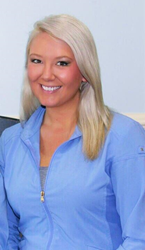 I enjoy planning and developing a beautiful smile for patients; also, helping patients along with the hygienists to maintain good oral health is a priority.
MANSFIELD, Ohio (PRWEB) November 06, 2017
Lori Hall graduated from Owens College in Toledo as a Registered Dental Hygienist in 2017. She demonstrated meticulous attention to detail and initiative in her work clinically. Lori enjoys new challenges and has a lot of dedication to dental hygiene.
She recently joined Dr. Kiser and his staff at the Advanced Dentistry and Dental Implant Center in Mansfield, Ohio. Lori is the one to go to for a top-notch cleaning. Lori Hall enjoys working with the community and helping patients achieve a healthy smile.
Outside of the office, Lori enjoys hiking at Mohican, taking care of her family dog, and enjoying company with friends and family.
ABOUT ADVANCED DENTISTRY AND DENTAL IMPLANT CENTER OF MANSFIELD OHIO: Dr. Russell Kiser is an endodontist specialist and practicing general dentist with many years of experience in the field of dentistry, restorative/prosthetic care, dental surgery, and implant surgery.
"I enjoy planning and developing a beautiful smile for patients; also, helping patients along with the hygienists to maintain good oral health is a priority. I provide serious experience in basic dental care, advanced surgical dental care, dental implants, and endodontic procedures that allow patients to have the best smile possible in support of the best oral health achievable. Patients are given utmost care and attention with consideration by me and my staff who look at the patient's overall condition to make sensible recommendations." - Dr. Russell Kiser II, DDS, MS, EMT-P
Advanced Dentistry and Dental Implant Center
Russell Kiser II, DDS, MS, EMT-P
Dentist / Endodontist
1221 S. Trimble Rd.
Building A, Suite A-1
Mansfield, OH 44907
419-756-2880
+ Snoring, Sleep Apnea, and Advamced Sleep Appliance Management
Oral Appliance Experts
http://kiserdental.com
https://www.facebook.com/Dr-Russell-Kiser-DDS-262071673965611/
https://twitter.com/kiser_dental
https://plus.google.com/+DrRusselKiserDDSMansfield