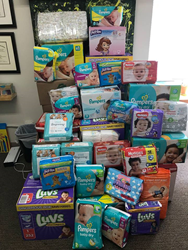 Our mission at Columbus Pre-School has always been to create 'good citizens' for our world and foster a desire in our students to help, give back and be kind.
New York, NY (PRWEB) November 02, 2017
A private preschool in Manhattan is hoping to instill the importance of community service to its young students by bringing it inside, as well as outside, of the classroom. Columbus Pre-School is proud to announce the launch of Columbus Cares: Preschoolers Making a Difference. Each of the school's nine classrooms, consisting of more than 125 two-to-four-year-old children, are selecting a NYC charity. With the help of their teachers and parents, the students will take part in service-oriented and learning projects throughout the course of the year.
The community service idea and activities have been informally implemented over the past 10 years. In honor of its upcoming 30th anniversary, the school's founders decided to make the program an official, structured part of a "kindness" curriculum. "Our mission at Columbus Pre-School has always been to create 'good citizens' for our world and foster a desire in our students to help, give back and be kind," explained the school's founder, Peggy Gluck. "We love the fact that this unites our students, parents and teachers; everyone has the common goal of instilling in these wonderful little open minds how important it is to be a good person and help others."
Charities and nonprofits which are being served by the program thus far include the Central Park Conservancy and City Harvest. Each class is in the process (with the help of parents and teachers) of choosing an organization based on nonprofit sectors like the environment, hunger, homelessness and the arts, to name a few. Curriculum about these focus areas, like a November food drive and donation day for City Harvest, is being incorporated and hands-on activity will take place inside and outside of the classroom on a regular basis. Once per semester, a teacher will be allowed to use a day of work to provide a day of service to the classroom's designated organization and report back to the children on the experience.
Columbus Pre-School is located at 606 Columbus Avenue, New York, NY. For additional information, please contact Kiah Gluck at info@columbuspre-school.com or call (212) 721-0090.
About Columbus Pre-School
Columbus Pre-School was founded in 1988 by Peggy and Billy Gluck and has a nearly 30-year heritage as a family-owned and operated premier preschool on New York City's Upper West Side. Columbus Pre-School offers a learning environment which nurtures and respects the different gifts and variety in learning styles that each child brings to the classroom community. The focus and philosophy are based on the holistic development of the children, rooted in their own investigations of their environment, and the pursuit of their individual passions. Active, expressive, child-centered learning experiences are emphasized, and brought to life through the emergent curriculum, based on the Reggio Emilia approach. The attached gymnastics studio and instruction and connected outdoor space provide an ideal and safe environment for physical fitness and gross motor skill development critical to the preschool-age child. All teachers have either received their Masters in Education or are in process. Columbus Pre-School is highly-regarded for its exmissions support and offerings and has a longstanding track record of success in New York City private school placement. For more information, please visit http://www.columbuspre-school.com/.