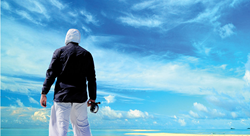 MIAMI (PRWEB) November 02, 2017
Hurricane destroys - Tail Fly Fishing Magazine rebuilds.
Reason to give thanks is not easy for many Americans this year displaced from their homes by the recent and unusual hurricane season of 2017. Harvey submerged Houston while Irma lay waste to the Florida Keys. Tail Fly Fishing Magazine is a small media company headquartered in Miami Beach, Florida with a small satellite office in Houston Texas. Both cities were affected by Irma & Harvey. With Thanksgiving upon us and the November 2017 due on the newsstands in just days, the team at Tail Fly Fishing Magazine announced their decision to donate all proceeds for the month of November to hurricane relief efforts in each state.
Founder Joseph Ballarini says:
"We were more fortunate than others suffering only minor damages and minimal loss. So many people have lost their homes and businesses and a lifetime of memories. We wanted we could do something to help them, people we know, people we don't know, all the people in need. Don't get me wrong, we're not the New York Times so we probably won't singlehandedly rebuild Houston, but we are willing to give everything we have."
In his November letter from the editor in Tail Fly Fishing Magazine #32, he recounts his family's story of evacuation and uncertainly and ends it with the announcement that proceeds will go to hurricane relief efforts in Florida & Texas. This was of course written and printed before Maria destroyed Puerto Rico which raised the question about Puerto Rico.
Ballarini says:
"We plan to direct the funds where they are needed the most and of course Puerto Rico will be included." We are featuring Florida & Texas based, artisans, writers photographers and retailers to help them get back on their feet again."
"When Puerto Rico is ready we are in the planning stages of 6 hosted trips in the hopes that tourism dollars brought in will help replenish local economies. We're doing everything we can, but it is going to take time for these scars to heal."
Tail Fly Fishing Magazine is a conservation minded saltwater fly fishing magazine with an artful eye for design. The print version is available at all major retail bookstores, sporting good stores and fly shops throughout North America and Canada.
For more information or to subscribe visit: http://www.tailflyfishing.com
Instagram: https://www.instagram.com/tailflyfishingmagazine/
Facebook: https://www.facebook.com/tailflyfishing
Pinterest: https://www.pinterest.com/tailflyfishing/
Linkedin: https://www.linkedin.com/company/tail-fly-fishing-magazine/