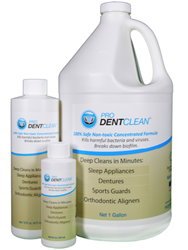 During flu season...after just one cleaning with Prodentclean my family was on the mend. Olympia Dukakis – Oscar Winning Actress
(PRWEB) November 03, 2017
"Empowered Oxygen™" is the secret of Prodentclean, said inventor Dr. Todd Morgan, who is a pioneer in dental sleep medicine and oral appliance therapy. Prodentclean is a concentrated formula that is 100% safe, and alcohol-free that cleans and maintains retainers, night guards, mouth guards, sports guards, dentures, and more. The formula contains the power of peroxide that is well known to kill bacteria and break down the biofilm on contaminated surfaces. "The mouth is especially good at depositing gooey bacteria on all of those oral appliances we wear routinely, said Dr Morgan. Then we put them back in our mouths without even thinking about the gross junk that builds up. Biofilms occur when bacterial colonies organize, and are linked to many types of infections."
What is Empowered Oxygen™ and how does it break down Biofilm?
The Empowered Oxygen™ released from hydrogen peroxide is also known as a free radical. Peroxide has two oxygen ions that can react with bacterial cell walls and other cells' structures. This process is termed "Oxidation." Most bacteria we encounter have little to no defense against our Empowered Oxygen. Even better: we add key ingredients to unlock the true muscle of the released oxygen. Our combination of ingredients is the key to amazing cleaning power of Prodentclean.
Acute infections caused by pathogenic bacteria have been studied extensively for well over 100 years. These infections killed millions of people in previous centuries, but they have been combated effectively by the development of modern vaccines, antibiotics and infection control measures. Most research into bacterial pathogenesis has focused on acute infections, but these diseases have now been supplemented by a new category of chronic infections caused by bacteria growing in slime-enclosed aggregates known as biofilms. Bacterial biofilm is infectious in nature. According to National Institutes of Health (NIH) about about 65% of all microbial infections, and 80% of all chronic infections are associated with biofilms. During biofilm formation many species of bacteria are able to communicate with one another through specific mechanism called quorum sensing. When the time is right, an event called "detachment" occurs, releasing more planktonic bacteria that will find new surfaces to colonize. That colonization process if left alone forms a varnish like coating, making it hard for soap and water to penetrate. Oral appliances are the most neglected when it comes to cleaning. Therefore they are the most susceptible to developing biofilm over time when natural saliva flow saturates the device causing a bacteria contained thickened slime to occur.
It Takes A Village
Dr. Morgan invented Prodentclean as a labor of love solution when he grew tired of watching his staff use masks and gloves when handling harsh chemicals to clean devices in their ultrasonic machine. He has been working in the dental sleep medicine space for over 3 decades, and loves what he does. The product is USA made and bottled in California using an FDA compliant facility. A special bottling technique is used to maximize the efficiency of the production process and keep costs down since Prodentclean is not affiliated with large corporate backers and relies on word of mouth from colleagues, staff and the positive feedback he receives from consumers who purchase it off the website http://www.prodentclean.com. He is grateful for his strategic partners such as Space Maintainer Lab, OSA University, Sleeptest.com, Airway Management, True Function Lab, Sleep Alliance and Sleep Data. "This past flu season my grandchildren were not getting any relief from their medicine. I realized after visiting my dentist that they may be reinfecting themselves with the germs that are living on their dental retainers! Then I was told of Dr. Todd Morgan and Prodentclean. I learned that my soap and water will not kill the harmful bacteria on oral appliances. After just one cleaning with Prodentclean my family was on the mend. If you love your family as I do, you won't let them use those dastardly contaminated appliances." Olympia Dukakis – Oscar Winning Actress
###
Learn more about Prodentclean and Dr. Todd Morgan and to like us on the following to receive discounts:
Twitter
Facebook
Linkedin
We invite you to take the Prodentclean challenge: test us against your current product, fill out our online customer survey and if you don't find it superior we will give you a full refund.