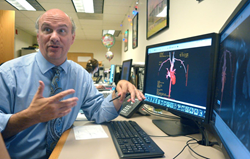 MRI provides us with a unique view of the cardiovascular system that can significantly improve our ability to accurately diagnose and treat patients with cardiovascular disease.
WEXFORD, PA (PRWEB) November 02, 2017
Patients living in the northern suburbs of Pittsburgh now have close-to-home access to one of the most advanced technologies in the world for diagnosing diseases of the heart and vascular system. Located at the Allegheny Health Network (AHN) Wexford Health + Wellness Pavilion, the new cardiac magnetic resonance imaging (MRI) program is the first satellite location for Allegheny General Hospital's (AGH) world-renowned Cardiovascular MRI Center.
Cardiac MRI at Wexford is performed by a technologist trained and supervised by Robert Biederman, MD, Medical Director of the Cardiovascular MRI Center at AGH's Cardiovascular Institute and one of the world's foremost experts in the field. The images are then reviewed and interpreted at AGH by Dr. Biederman and his fellow AGH cardiac MRI specialists.
"The same advanced cardiac MRI program we have in place at Allegheny General is now available at the Wexford Health + Wellness Pavilion for our patients living in the North Hills," said Dr. Biederman. "MRI provides us with a unique view of the cardiovascular system that can significantly improve our ability to accurately diagnose and treat patients with cardiovascular disease. Thanks to a software upgrade on the existing MRI scanner at the Pavilion, we are now able to offer this leading-edge capability in Wexford."
By creating detailed, 3-D still and moving images of the patient's heart and circulatory system, cardiac MRI provides physicians a clear view of the heart's chambers, valves, and blood vessels in motion. Doctors are able to use this information to determine if the patient has a condition that requires treatment and what kind of therapy that should be.
Under Dr. Biederman's direction, AGH has become one of the world's leading centers for cardiac MRI, and it is one of the few hospitals nationwide capable of performing MRI testing on patients with implantable cardiac devices, such as pacemakers and implantable cardioverter defibrillators (ICD). Dr. Biederman was part of a national study to determine the safety of MRI for patients with implantable devices, and his subsequent studies confirmed the efficacy of MRI for these patients as well. An article co-authored by Dr. Biederman about the diagnostic value of MRI for this patient population was published in the September 2017 issue of the Journal of American College of Cardiology: Clinical Electrophysiology. AGH recently performed its 500th successful MRI on a patient with an implantable device.
"This particular group of patients will continue to be screened at AGH, where we have the advanced capabilities required to safely perform MRI on those with implantable devices," explained Dr. Biederman. "But those patients in the North Hills who do not have implantable devices now have the option of having their MRI scans done at the Wexford Pavilion, allowing us to offer them convenient, close-to-home access to a vital, safe, and highly effective diagnostic tool in our cardiac imaging arsenal."
Last year, AHN launched a cardiac rehabilitation program at the Wexford Pavilion and expanded its cardiovascular clinic there by moving into a larger space in the sprawling 174,000-square-foot facility.
"The continued growth of the Cardiovascular Institute at Wexford means we are able to provide an even more robust range of cardiovascular services to our patients in this fast-growing area," said Srinivas Murali, MD, Medical Director, AHN Cardiovascular Institute.
###
About the Allegheny Health Network
Allegheny Health Network (AHN.org), a Highmark Health company, is an integrated healthcare delivery system serving the greater Western Pennsylvania region. The Network is composed of eight hospitals, including Allegheny General Hospital, its flagship academic medical center in Pittsburgh, Allegheny Valley Hospital in Natrona Heights, Canonsburg Hospital in Canonsburg, Forbes Hospital in Monroeville, Jefferson Hospital in Jefferson Hills, Saint Vincent Hospital in Erie, West Penn Hospital in Pittsburgh and Westfield Memorial Hospital in Westfield, NY. The Network provides patients with access to a complete spectrum of advanced medical services, including nationally recognized programs for primary and emergency care, cardiovascular disease, cancer care, orthopedic surgery, neurology and neurosurgery, women's health, diabetes and more. It also is home to a comprehensive research institute; Health + Wellness Pavilions; an employed physician organization, home and community based health services and a group purchasing organization. The Network employs approximately 17,000 people, has more than 2,800 physicians on its medical staff and serves as a clinical campus for Drexel University College of Medicine, Temple University School of Medicine, and the Lake Erie College of Osteopathic Medicine.