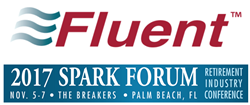 Fluent Technologies' executives are experts in developing cutting-edge technology platforms to meet the needs of recordkeepers, plan advisers and relationship management teams to better manage, deliver and present financial information pertaining to retirement plans and participant outcomes
WOBURN, Mass. (PRWEB) November 02, 2017
Today Fluent Technologies announced that it will be attending and exhibiting at the SPARK Forum 2017 November 5–7 at The Breakers in Palm Beach, FL. At the show, Fluent will be unveiling a new product which will change the way the industry views financial software and practice management. Demonstrations of the software, UtopiaAdvisor(TM), will be given at the show.
What: Fluent Technologies will exhibit at the SPARK Forum, the retirement services industry's leading event for the nation's top marketing, sales, administration and recordkeeping professionals
Who: Fluent Technologies' executives are experts in developing cutting-edge technology platforms to meet the needs of recordkeepers, plan advisers and relationship management teams to better manage, deliver and present financial information pertaining to retirement plans and participant outcomes
When: November 5–7, 2017
Where: SPARK Forum 2017, The Breakers, Palm Beach, FL
For: SPARK Forum Attendees, Media and Industry Analysts interested in learning how the industry can better optimize practices and performance
For more information about Fluent, UtopiaAdvisor or to set up a meeting with a company executive at the show, please contact us here.
About Fluent
Fluent Technologies is dedicated to the management, delivery and presentation of financial information. We transform complex and disparate data into meaningful client experiences. As a leading software as a service provider in the industry, our focus is on the needs of retirement plan professionals. Our mission is to improve their practices and resources, so they can guide their sponsors and participants to informed decisions, actions and satisfaction. Our vision is that every plan provider, advisor and client is aware of their wellness position in a retirement plan benefit and can easily act to control their outcome. http://www.fluenttech.com