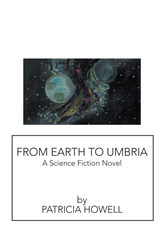 LOUISVILLE, Ky. (PRWEB) November 06, 2017
Patricia Howell has always been a fan of James McAvoy. It wasn't until she heard him say in an interview that he would love to be in a science fiction movie about a space adventure that she decided to write a book about it inspired by him.
In her new book, "From Earth to Umbria," Howell tells the story of Jarod Dask, the leader of the planet Umbria, and his destiny to save Earth and it's civilians from the end of civilization.
Dask does this by deciding to volunteer his home and people to rescue the doomed Earthlings before the sun explodes and destroys their planet in order to create a new civilization with his people, the Umbrians.
"The book shows how one person can have compassion for complete strangers and how that compassion can lead to a better life for those people," Howell said. "This can translate to readers the message that showing kindness to strangers, no matter who they are or where they live, can lead to a better life for all."
An Amazon reviewer described the book as, "A heartwarming story of saving a civilization and joining with them to form a new world. I highly recommend "From Earth to Umbria."'
In "From Earth to Umbria," readers can find adventure and out-of-this-world fantasy while waiting with anticipation to see if Dask fulfills his true destiny. And most importantly, will the Earthlings survive?
"From Earth to Umbria"
By: Patricia Howell
ISBN: 978-1-5434-2772-1 (sc); 978-1-5434-2771-4 (e)
Available at the Xlibris Online Bookstore and Amazon
About the author
Patricia Howell is a former teacher who always encouraged her students to use their imaginations and creativity when writing stories or participating in lectures. She has always loved the idea of space travel and admires Christa McAuliffe and Sally Ride. She currently lives in Louisville.