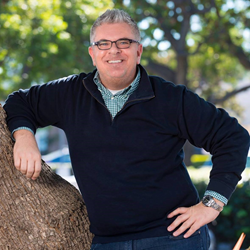 He made it fun to use Kolbe so our whole team bought in and everyone saw the benefit.
PHOENIX (PRWEB) November 02, 2017
"If anybody knows how to unlock growth it's Jason Cupp," said David Kolbe, CEO of Kolbe Corp. Kolbe announced Jason Cupp as the 2017 winner of its Professional Award for Conative Excellence on Oct. 26. Cupp was one of four finalists for the award, which honors distinguished leaders for applying conative theory to identify people's natural strengths through consulting work. The criteria is based on expertise in Kolbe Theory, impact on organizations and voting from a panel of more than 80 other consultants.
"Jason's ability to grow the organizations he works with comes from years of training and experience, plus a gift for insight. Specifically, he really knows how to use Kolbe Indexes and software to dig deep into others' instinctive strengths," says Kolbe.
Jason Cupp has been a Kolbe Certified™ Consultant since 2006. During the last eleven years he has helped companies in insurance, health care and service industries with team building, business model development and crisis management. He travels extensively through North America and Western Europe as a speaker and consultant on a variety of growth-oriented business and leadership topics.
One of his clients, Affinity Worldwide, has seen the results of working with Jason Cupp. "Jason goes above and beyond to stay engaged with all levels of the organization. His independent insight and counsel play an important part in a cohesive environment," says Kay Moore, CHRO for Affinity Worldwide.
"He made it fun to use Kolbe so our whole team bought in and everyone saw the benefit. We've used Kolbe to understand how we're wired and operate from a place of strength. Most importantly, with Jason we've been able to stick with it," adds Jonathan Pototschnik, Founder & CEO of Service Autopilot.
Jason Cupp received the award at Conation Nation Symposium in Scottsdale, Arizona. Conation Nation Symposium brings together more than 200 thought leaders for training and knowledge-sharing around conation – the leading theory for understanding innate strengths.
About Jason Cupp
Jason Cupp is a former CEO turned Kolbe Certified Consultant, team builder and motivational speaker. He travels almost constantly – talking about everything from sales and marketing to crisis management – to clients in almost any industry, including extensive work in insurance, legal, health care, technology, and the service industry (where his career started). His knowledge, experience and approachability has put him in front of thousands of people and businesses across North America and Western Europe. (See: http://www.jasoncupp.com.)
About Kolbe Corp
Since 1977, Kolbe Corp's mission is to help people succeed by having the freedom to be themselves. More than one million individuals have completed Kolbe assessments to better understand their conative strengths – natural instincts that govern action and achievement. Thousands of employers use Kolbe Corp's assessments and consulting services to build and grow more productive, effective and engaged teams.
Kolbe Corp's flagship online assessment, the Kolbe A™ Index, is used by individuals and organizations in the US and 34 other countries around the world to understand their natural strengths. It is the most powerful assessment of its kind with proven reliability and validity. Its diverse users include academic thought-leaders, organizational theoreticians and practitioners in the business, non-profit and public sectors.